Life form:

Annual

Succulence:

Stem + leaf succulent

Stems:

woody-stemmed, up to 40 cm long, zig-zagging branches which radiate from the centre of the plant in a star shape

Leaves:

Subcircular to obovate, entire, decurrent at base, pilose

Inflorescence:

Axillary solitary, sessile

Flowers:

Hermaphrodite; petals absent; perianth segments yellowish inside, greenish or reddish and pilose outside; ovary superior

Fruits / pods:

Woody, star-shaped capsule red or pink, depressed in the middle; black, shiny, kidney-shaped seeds

Flowering Period:

Januari, February, March, April

Habitat:

Salty and non-salty habitats in wadis in hot desert areas

Distribution:

Semi-steppe shrublands, Shrub-steppes, Deserts and extreme deserts

Chorotype:

Sudanian

Summer shedding:

Ephemeral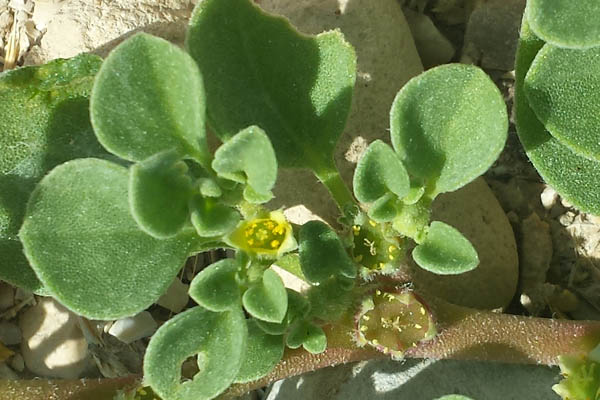 Derivation of the botanical name:
Aizoon, αειζωον , from 'ever living'; evergreen.
canariense, from the Canary Islands.
procumbens, spread over the surface of the ground.
Glinus, Greek, sweet juice.
chrystallinus, resembles Chrystallised Pyrites, Marcasite.
The standard author abbreviation L. is used to indicate Carl Linnaeus (1707 – 1778), a Swedish botanist, physician, and zoologist, the father of modern taxonomy.
The standard author abbreviation Crantz is used to indicate Heinrich Johann Nepomuk von Crantz (Roodt-sur-Eisch, Luxembourg, 1722 – 1799, Judenburg, Austria) , a botanist and a physician.
The standard author abbreviation Forssk. is used to indicate Peter Forsskål (1732 – 1763),a Swedish explorer, orientalist, naturalist and an apostle of Carl Linnaeus.