Alisma lanceolatum, Narrow-Leaved Water-plantain,
כף-צפרדע איזמלנית
Scientific name:

Alisma lanceolatum With.

Common name:

Narrow-Leaved Water-plantain

Hebrew name:

כף-צפרדע איזמלנית

Nederlandse naam:

Slanke waterweegbree

Family:

Alismataceae, Water-plantains, כף-הצפרדע
Life form:

Hemicryptophyte

Leaves:

Alternate, rosette, entire

Flowers:

Pink petals

Flowering Period:

March, April, May, June, July, August, September

Habitat:

Humid habitats

Distribution:

Mediterranean Woodlands and Shrublands

Chorotype:

Euro-Siberian - Med - Irano-Turanian

Summer shedding:

Perennating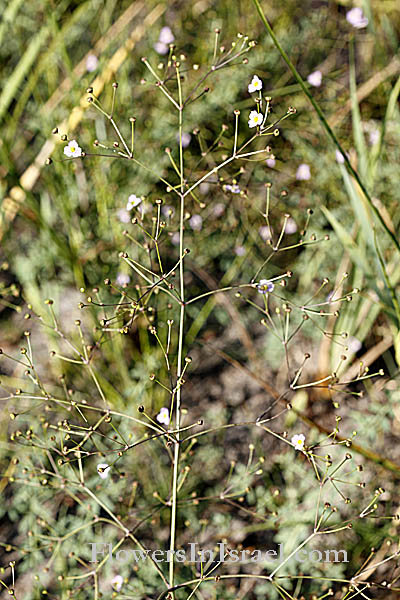 Derivation of the botanical name:
Alisma, αλισμα, name for a water plant used by Dioscorides, and adopted by Carolus Linnaeus.
From halismos "movement of the sea," from hals, halos "sea".
lanceolatum, lancea, "lance, spear", atus,"with, shaped, made"; meaning lance shaped.
The standard author abbreviation With. is used to indicate William Withering (1741 – 1799), an English botanist, geologist, chemist, physician and the discoverer of digitalis.