Alisma lanceolatum, Narrow-Leaved Water-plantain,
כף-צפרדע איזמלנית

Scientific name:

Alisma lanceolatum With.

Common name:

Narrow-Leaved Water-plantain

Hebrew name:

כף-צפרדע איזמלנית

Nederlandse naam:

Slanke waterweegbree

Family:

Alismataceae, Water-plantains, כף-הצפרדע
Life form:

Hemicryptophyte

Leaves:

Alternate, rosette, entire

Flowers:

Pink petals

Flowering Period:

March, April, May, June, July, August, September

Habitat:

Humid habitats

Distribution:

Mediterranean Woodlands and Shrublands

Chorotype:

Euro-Siberian - Med - Irano-Turanian

Summer shedding:

Perennating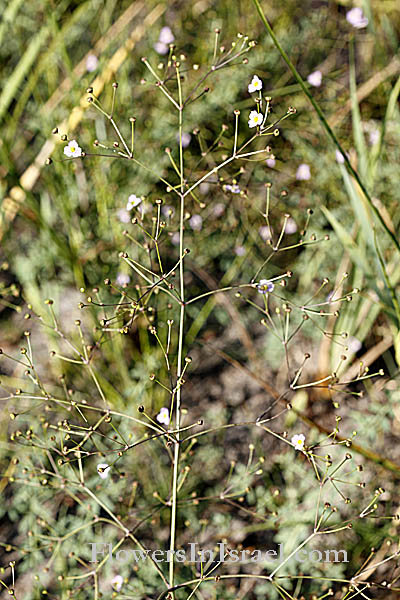 Derivation of the botanical name:
Alisma, αλισμα, name for a water plant used by Dioscorides, and adopted by Carolus Linnaeus.
From halismos "movement of the sea," from hals, halos "sea".
lanceolatum, lancea, "lance, spear", atus,"with, shaped, made"; meaning lance shaped.
The Hebrew word: כף-צפרדע, Kaf-Sphardea, (frog spoon); Leonhart Fuchs (1501–1566), a German physician and botanist wrote, the water plantain would also be called "Froschlöffel" (frog spoon), because the leaves are shaped like spoons, and it would growing where frogs live.
The standard author abbreviation With. is used to indicate William Withering (1741 – 1799), an English botanist, geologist, chemist, physician and the discoverer of digitalis.