Allium tel-avivense, Tel Aviv Garlic,
Hebrew: שום תל-אביב, Arabic: الثوم اليافاوي
Scientific name:

Allium tel-avivense Eig

Common name:

Tel Aviv Garlic

Hebrew name:

שום תל-אביב

Arabic name:

الثوم اليافاوي

Family:

Amaryllidaceae, נרקיסיים

Subfamily:

Allioideae (formerly treated as a separate family, Alliaceae)

Tribe:

Allieae (comprises a single genus, Allium)

Genus:

Allium, שום
Life form:

Geophyte

Stems:

12-25cm

Leaves:

Alternate, rosette, entire

Flowers:

Pink

Fruits:

capsular, dehiscence loculicidal; Seeds black, obovoid, finely cellular-reticulate, cells smooth or minutely roughened, with 1-8 papillae, without caruncle

Flowering Period:

March

Habitat:

Sand

Distribution:

Mediterranean Woodlands and Shrublands

Chorotype:

Mediteranean

Summer shedding:

Ephemeral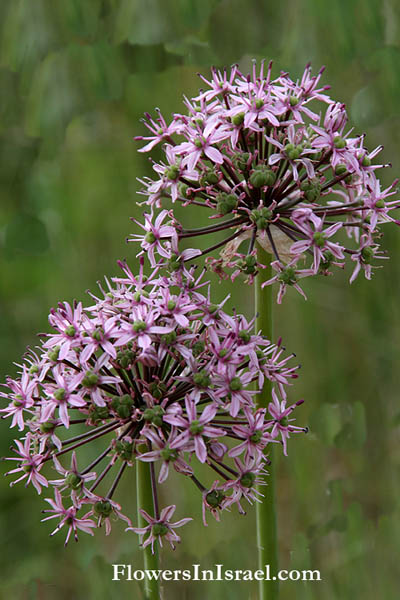 Derivation of the botanical name:
Allium, onion, chive and garlic. From the classical Latin name for garlic.
tel-avivense from Tel Aviv.
The standard author abbreviation Eig is used to indicate Alexander Eig (1894 – 1938), a botanist, one of the first plant researchers in Israel, head of department for Botanics at the Hebrew University of Jerusalem, and co-founder of Jerusalem Botanical Gardens on Mount Scopus.
Allium tel-avivense is closely related to Allium aschersonianum, with a larger inflorescence and a shorter stalk; it is endemic to coastal Israel.