Prunus korschinskii, Amygdalus korschinskii, Wild Almond,
Hebrew:שקד קטן-עלים, Arabic: خوخ كورشنسكي

Scientific name:

Prunus korschinskii Hand.-Mazz.

Synonym name:

Amygdalus korschinskii (Hand.-Mazz) Bornm.

Common name:

Wild almond

Hebrew name:

שקד קטן-עלים

Arabic name:

خوخ كورشنسكي

Family:

Rosaceae, Rose Family, משפחה ורדיים
Life form:

Shrub

Stems:

Greyish bark

Leaves:

Alternate, entire, dentate or serrate margin, stipule; 2-3cm long

Inflorescence:

flower before the leaves open

Flowers:

Hermaphtodite, 5 pink or white petals, 2cm in diameter; the cup tube is covered by bud scales

Fruits / pods:

a grey drupe, retused or rounded at the end; 1-2cm, sometimes bigger

Flowering Period:

February, March

Habitat:

Mediterranean Woodlands and Shrublands, Semi-steppe shrublands, Mt. Hermon

Distribution:

Mediterranean maquis and forest

Chorotype:

Irano-Turanian

Summer shedding:

Perennating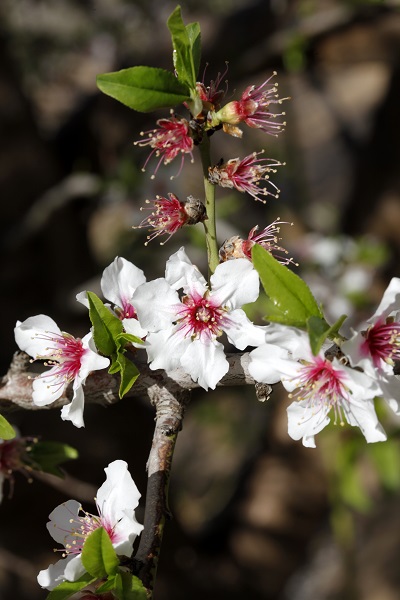 Derivation of the botanical name:
Amygdalus, amygdala, αμυγδαλη, "an almond"; us, Latinizing suffix; almond like.
Prunus, Latin prūnus, Greek προῦνον prounon; plum tree.
korschinskii, Korshinsky, Sergei Ivanovitsch (1861 - 1900), a Russian botanist.
The Hebrew word: שקד, shaked, Aramaic: שקדא, skeda. Among the Hebrews, the almond tree was a symbol of watchfulness and promise due to its early flowering. It is referred to in the Bible as "Shaked", meaning "hasten", what explains the passage in Jer. 1:11-12: The word of the LORD came to me saying, "What do you see, Jeremiah?" And I said, "I see a rod of an almond tree." Then the LORD said to me, "You have seen well, for I am watching over My word to perform it." The Hebrew for watching sounds like the Hebrew for almond tree.
The word "Luz", which occurs in Genesis 30:37, and that sometimes is translated as "hazel", is supposed to be another name for the almond. In Arabic the almond is called "Luz".
The standard author abbreviation Hand.-Mazz. is used to indicate Heinrich Raphael Eduard Freiherr von Handel-Mazzetti (1882 – 1940), an Austrian botanist.
The standard author abbreviation Bornm. is used to indicate Joseph Friedrich Nicolaus Bornmüller (1862 – 1948) , a German botanist.

The Almond species that grow wild in Israel:
Amygdalus orientalis Miller - Silver-leaved Almond, שקד מזרחי (Upper Galilee), leaves lanceolate quite entire silvery perennial, petiole shorter.
Amygdalus arabica Oliv.- Bitter almond tree, שקד ערבי (very rare, Judean Desert)
Amygdalus ramonensis Danin - שקד הרמון (high Negev highlands)
Amygdalus communis L. - Common Almond, שקד מצוי (the northern and central parts of the country)
Amygdalus korschinskii (Hand.-Mazz.) Bornm.- שקד קטן-עלים (the northern and central parts of the country)


Almonds are reported in Hebrew literature as early as 2000 BCE.
Prunus/Amygdalus korschinskii is dominating in the Forest Park (a technical term for open woodland) at the slopes of the Galilee and the Golan to the Jordan Valley and the Sea of Galilee, together with Pistacia atlantica company, Ceratonia siliqua, Styrax officinalis and some Quercus ithaburensis.
Forest - Land spanning more than 0.5 hectares with trees higher than 5 meters and a canopy cover of more than 10 percent, or trees able to reach these thresholds in situ. It does not include land that is predominantly under agricultural or urban land use.

Amygdalus korschinskii and Amygdalus communis are taxonomically close, they are probably crossbred.