Anabasis setifera, Anabasis,
Hebrew: יפרוק זיפני, Arabic: الشَّنَّان الشُعيري
Scientific name:

Anabasis setifera Moq.

Common name:

Anabasis

Hebrew name:

יפרוק זיפני

Arabic name:

الشَّنَّان الشُعيري

Family:

Chenopodiaceae, סלקיים
Life form:

Chamaephyte

Succulence:

Stem + leaf succulent

Stems:

Succulent stems; deeply grooved; the stomata in these grooves are unable to open widely, thus reducing the risk of over-loss of moisture

Leaves:

Opposite, cylindrial or terete

Flowers:

Green

Fruits / pods:

Dispersal fruit containing a seed, fruit coat, tepals, and 5 wings developing from the tepals back and assisting wind-dispersal

Flowering Period:

August, September, October, November

Habitat:

Desert

Distribution:

Semi-steppe shrublands, Shrub-steppes, Deserts and extreme deserts

Chorotype:

Saharo-Arabian

Summer shedding:

Perennating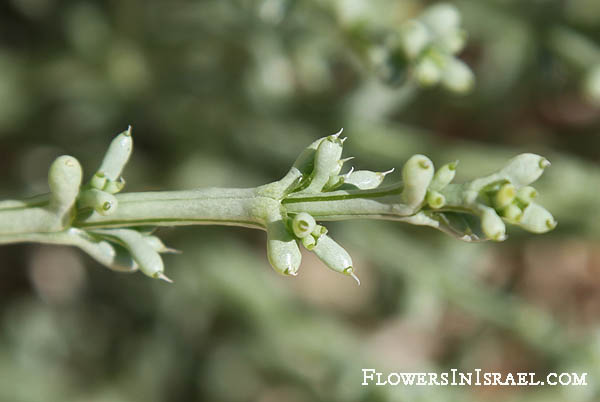 Derivation of the botanical name:
Anabasis, Ἀνάβασις, ana, "up" + bainein, "to go".
setifera, seta, a bristle; fer, to bear, carry; bristle bearing.
The standard author abbreviation Moq. is used to indicate Christian Horace Bénédict Alfred Moquin-Tandon (1804–1863), a French naturalist and doctor.
Minute insects penetrating into the young stems discharge white and sweet foamy liquid which is named by the Bedouin "mann" or "manna".