Atriplex holocarpa, Atriplex spongiosa, Pop Saltbush,
Hebrew: מלוח ספוגי, Arabic: رغل كلي الإثمار
Scientific name:

Atriplex holocarpa F.Muell.

Synonym name:

Atriplex spongiosa F.Muell.

Common name:

Pop Saltbush

Hebrew name:

מלוח ספוגי

Arabic name:

رغل كلي الإثمار

Family:

Chenopodiaceae, סלקיים
Life form:

Annual

Succulence:

bladderlike hairs - salt bladders - salt hairs - vesicular hairs

Leaves:

Alternate, entire, smooth

Flowers:

Green

Flowering Period:

May, June, July, August, September, October, November

Habitat:

Desert, Disturbed habitats

Distribution:

Semi-steppe shrublands, Shrub-steppes, Deserts and extreme deserts

Chorotype:

Australian

Summer shedding:

Ephemeral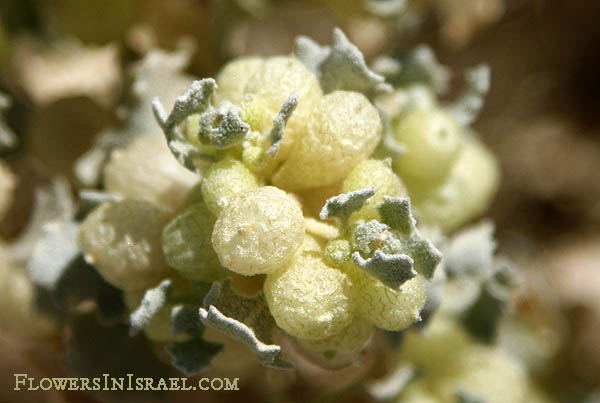 Derivation of the botanical name:
Atriplex , ατραφαξιϛ, ατραφαξυϛ, αδραφαξυϛ, ανδραφαξιϛ, a pot-herb like spinach, orach (Atriplex hortensis) from which the entire genus gets its name.
holocarpa, holos, ολοϛ, whole, complete; carpos, καρποϛ, fruit; undivided fruit.
spongiosa, Spongy, soft, or having the texture of a sponge.
In Hebrew, in Chaldee, and in Syriac, the word Maluach, מלוח, implies a brackish or salt-tasted plant. In the Septuagint, it is rendered ,άλιμα, the halimus.
The Hebrew word: מלוח, Maluach, comes from melech, מלך, salt,
The translation of the Hebrew word 'maluach', מלוח (from melech, מלך, salt), is 'orache' and not 'mallow'.
The standard author abbreviation F.Muell. is used to indicate Baron Sir Ferdinand Jacob Heinrich von Mueller (1825 – 1896), a German-Australian physician, geographer, and most notably, a botanist.