Bellevalia trifoliata,Hyacinthus trifoliatus,
Purple Roman squill, Turkish bellevalia,
Hebrew: זמזומית סגולה, Arabic: البلفية ثلاثية الوريقات

Scientific name:

Bellevalia trifoliata (Ten) Kunth

Synonym name:

Hyacinthus trifoliatus Ten.

Common name:

Purple Roman squill, Turkish bellevalia

Hebrew name:

זמזומית סגולה

Arabic name:

البلفية ثلاثية الوريقات

Family:

Liliaceae, שושניים
Life form:

Geophyte

Stems:

12-23 cm high; pink, violet color of the stem and pedicels

Leaves:

Rosette, simple, smooth

Flowers:

Raceme; flower-buds purple-violet; erect but arch down slightly after opening when the petals brown greenish

Fruits / pods:

Capsule, obtuse at apex; seeds rounded or occasionally pear-shaped, smooth, dull, black, but sometimes with a bluish bloom

Flowering Period:

February, March

Habitat:

Batha, Phrygana

Distribution:

Mediterranean Woodlands and Shrublands

Chorotype:

Mediterranean

Summer shedding:

Ephemeral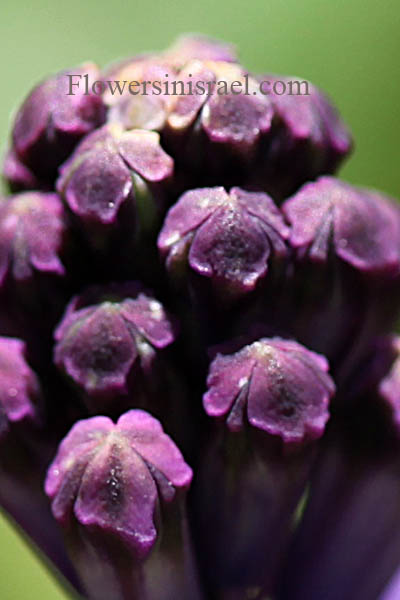 Derivation of the botanical name:
Bellevalia, named in honor of Pierre Richer de Belleval (1564-1632), who founded the Montpellier Botanic Garden in 1593.
trifoliata, tri, tres, three; foliatus, provided with or having leaves; 3 leaved.
The Hebrew name: זמזומית, zimzumit, it's origin is in the buzzing, humming (זמזום, zimzum), that the flowers make when they are slightly crushed by hand.
The standard author abbreviation Ten. is used to indicate Michele Tenore (1780 – 1861), an Italian botanist active in Naples, Italy.
The standard author abbreviation Kunth is used to indicate Carl Sigismund Kunth (1788 – 1850), a German botanist.