Calendula arvensis, Calendula aegyptiaca, Field Marigold,
Hebrew: צפורני-חתול מצויות, Arabic: أزريون, Egypt: ع̛ن البقر "'Ain El-Baqar"

Scientific name:

Calendula arvensis L.

Synonym name:

Calendula aegyptiaca auct.p.p. non Pers.

Common name:

Field Marigold

Hebrew name:

צפורני-חתול מצויות

Arabic name:

أزريون

Egypt:

ع̛ن البقر "'Ain El-Baqar"

Family:

Compositae (Asteraceae), מורכבים
Life form:

Annual

Stems:

30- 60 cm high; Erect or decumbent

Leaves:

Alternate, oblong-lanceilate, toothed or edge unbroken, hairy below

Flowers:

Yellow

Fruits / pods:

Very distinctive nut-like fruits, half-moon or ring-shaped

Flowering Period:

January, February, March, April, December

Habitat:

Batha, Phrygana, Shrub-steppes, Desert

Distribution:

Mediterranean Woodlands and Shrublands, Semi-steppe shrublands, Shrub-steppes, Deserts and extreme deserts, Montane vegetation of Mt. Hermon

Chorotype:

Med - Irano-Turanian

Summer shedding:

Ephemeral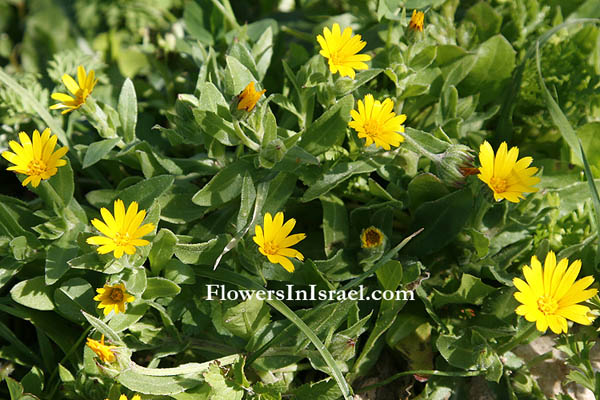 Derivation of the botanical name:
Calendula,from the Latin kalendae, "first day of the month" in the Roman calendar, since they can be found in flower at the beginning of most months of the year.
arvensis, arvum, field, cultivated land, plowed land; ensis, country or place of origin or habitat; of cultivated fields.
Marigold, refers to its link with the Virgin Mary.
The Hebrew name: צפרני-החתול, tsiporne-chatul, cat's claws, for the fruit looks like a cat's paw with drawn claws.
The standard author abbreviation L. is used to indicate Carl Linnaeus (1707 – 1778), a Swedish botanist, physician, and zoologist, the father of modern taxonomy.
The standard author abbreviation Pers. is used to indicate Christiaan Hendrik Persoon (1761–1836), born in South Africa, a lichenologist, mycologist and taxonomist.
In Egypt, the Calendula arvensis is called " kahleh ;" and in this. word, we recognise the kaaxan of Alemán, Epicharmus (c. 540 and c. 450 BCE), Nicolaus Damascenus (c.64 BCE), and Athenceus xv. 28.
Alire Raffeneau Delile (1778 - 1850), a French botanist, found the Calendula arvensis growing spontaneously around Cairo; and the Calendula officinalis, in gardens at Alexandria.
Calendula arvense seems to have therapeutic properties. It is antiseptic. Some constituents are antifungal, antibacterial, and antiviral.