Campanula retrorsa, Campanula scabrida, Campanula adhaerens,
Campanula dissoluta, Bellflower, Backwards harebell
Hebrew: פעמונית משוננת, Arabic: Jurays munqaleb

Scientific name:

Campanula retrorsa Labill.

Synonym name:

Campanula scabrida Hochst., Campanula adhaerens Ehrenb. ex Boiss., Campanula dissoluta Schott & Kotschy ex Boiss.

Common name:

Bellflower, Backwards harebell

Hebrew name:

פעמונית משוננת

Arabic name:

Jurays munqaleb

Plant Family:

Campanulaceae, פעמוניתיים
Life form:

Annual

Stems:

Erect trailing or decumbent, glabrous, pubescent, or hirsute

Leaves:

Alternate

Flowers:

Purple

Fruits / pods:

Capsule, elongated to ovoid, obovoid or round, with membran¬ous walls; dehiscence by irregular pores at the bases or the sides;Seeds minute, numerous

Flowering Period:

March, April, May

Habitat:

Humid habitats

Distribution:

Mediterranean Woodlands and Shrublands, Semi-steppe shrublands

Chorotype:

Mediterranean

Summer shedding:

Ephemeral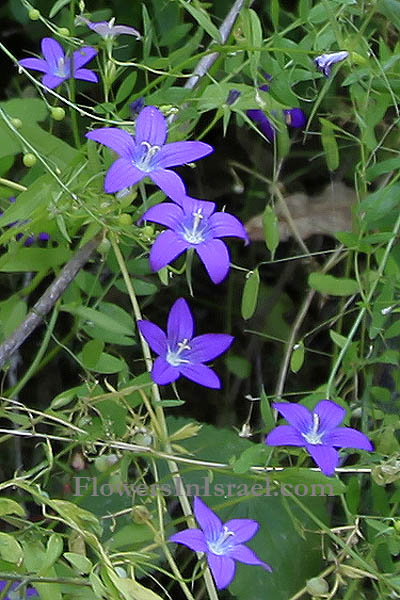 Derivation of the botanical name:
Campanula, campana campan, "bell" (church); Campanula (bell) shaped.
retrorsa, retro, "backwards"; retrorsus means turned backwards.
The Hebrew name: pa'amonit, פעמונית, from pa'amon, פעמון, bell. The flowers look like bells.
The standard author abbreviation Labill. is used to indicate Jacques Labillardière (1755–1834),a French naturalist noted for his descriptions of the flora of Australia.