Capparis aegyptia, Capparis deserti, Capparis sinaica,
Egyptian caper,
Hebrew: צלף מצרי, Arabic: قبار
Scientific name:

Capparis aegyptia Lam.

Synonym name:

Capparis deserti (Zohary) Täckh. & Boulos, Capparis sinaica Veill

Common name:

Egyptian caper

Hebrew name:

צלף מצרי

Arabic name:

قبار

Plant Family:

Capparaceae, Caper family, צלפיים
Life form:

Shrub

Spinescence:

Stipules

Stems:

Evergreen, spiny, trailing, deciduous shrub growing up to 1-2 m in height

Leaves:

Glaucous or blue leaves, alternate, one leaf per node

Flowers:

White

Fruits / pods:

Narrow-ovate fruits

Flowering Period:

January, February, March, April, May, June, July

Habitat:

Heavy soils

Distribution:

Semi-steppe shrublands, Shrub-steppes, Deserts and extreme deserts

Chorotype:

Irano-Turanian - Saharo-Arabian

Summer shedding:

Perennating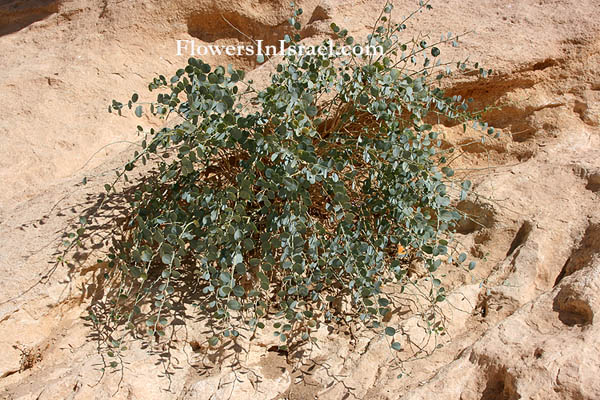 Derivation of the botanical name:
Capparis (latin), borrowed from Greek kapparis [κάππαρις], whose origin is unknown but probably West or Central Asia (Alkabara, kabar). Another theory links kapparis to the name of the island Cyprus (Kypros [Κύπρος]), where capers grow abundantly. Arabic kafara, to be hairy, villous.
aegyptia, Egyptian.
The standard author abbreviation Lam. is used to indicate Jean-Baptiste Lamarck (1744–1829), a French botanist.