Casuarina cunninghamiana, Australian beefwood,
Australian Pine, River Sheoak, Cunninghams beefwood,
Hebrew: קזוארינה דקיקה, Arabic: كازارينا كانينغهامية

Scientific name:

Casuarina cunninghamiana L.

Common name:

Australian beefwood, Australian Pine, River Sheoak, Cunninghams beefwood

Hebrew name:

קזוארינה דקיקה

Arabic name:

كازارينا كانينغهامية

Family:

Casuarinaceae, Beefwood family, משפחת קזואיניים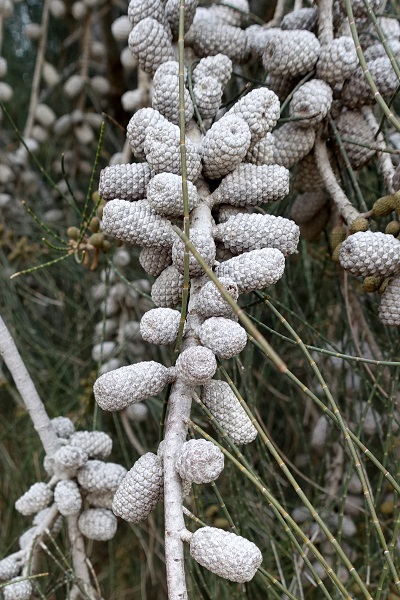 Life form:

Tree

Stems:

Bark finely fissured and scaly brown, much-branched green to grey-green twigs 0.5–1 mm

Leaves:

Minute scale-leaves in whorls of 6–8

Inflorescence:

Male and female flowers borne on separate trees; small catkin-like inflorescences

Flowers:

Flower clusters inconspicuous, light brown; male flowers in simple spikes 0.7–4 cm (0.28–1.57 in) long, the female flowers on short peduncles; female flowers small, reddish and ovalshaped, 5 mm long; flowers are reddish-brown in the male and red in the female

Fruits / pods:

Resembling a conifer cone

Flowering Period:

April, May

Habitat:

Forest

Distribution:

Mediterranean Woodlands and Shrublands, Semi-steppe shrublands, Montane vegetation of Mt. Hermon

Chorotype:

Australia

Summer shedding:

Perennating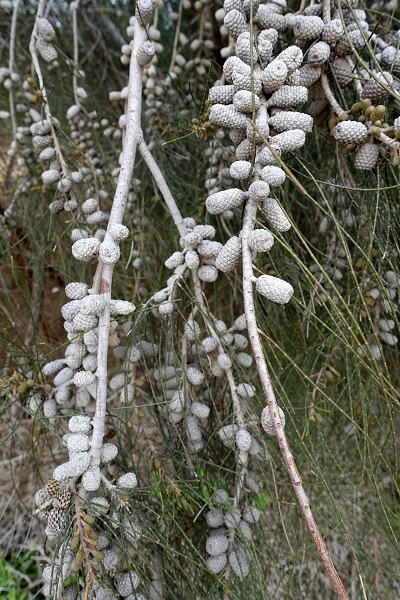 Derivation of the botanical name:
Casuarina, from the Malay word 'kasuari', from the supposed resemblance of the twigs to the plumage of the cassowary bird.
cunninghamiana, in honor of Alan Cunningham (1791-1839), an Australian botanist and explorer and superintendent of the Botanical Gardens at Sydney.
The standard author abbreviation L. is used to indicate Carl Linnaeus (1707 – 1778), a Swedish botanist, physician, and zoologist, the father of modern taxonomy.
The species is dioecious with individuals bearing unisexual flowers. The pollen is light and favours wind pollination. The fertilized female cone enlarges and becomes hard. Seeds are shed rapidly at maturity.

Casuarina trees were brought to Israel from Australia since the beginning of the British Mandate and are used for cultivated plants in gardens and boulevards. Among the most common species in Israel: Casuarina Cunnunghamiana, Casuarina Equisetifolia, Casuarina glauca, and Casuarina stricta.
Avenue of casuarinas is mentioned in the song "Nahal outpost in Sinai", by Naomi Shemer: "Walked slowly in the avenue of casuarinas" (פסעו לאט בתוך שדרת קזוארינות).
In the Bahai Gardens in Acco there is an 150 year old Casuarina Cunnunghamiana tree.