Centaurium spicatum, Schenkia spicata, Spiked Centaury,
Hebrew: ערבז משובל, Arabic: حشيشة العقرب

Scientific name:

Centaurium spicatum (L.) Fritsch

Synonym name:

Schenkia spicata (L.) Mansion

Common name:

Spiked Centaury

Hebrew name:

ערבז משובל

Arabic name:

حشيشة العقرب

Family:

Gentianaceae, Gentian family, ערבזיים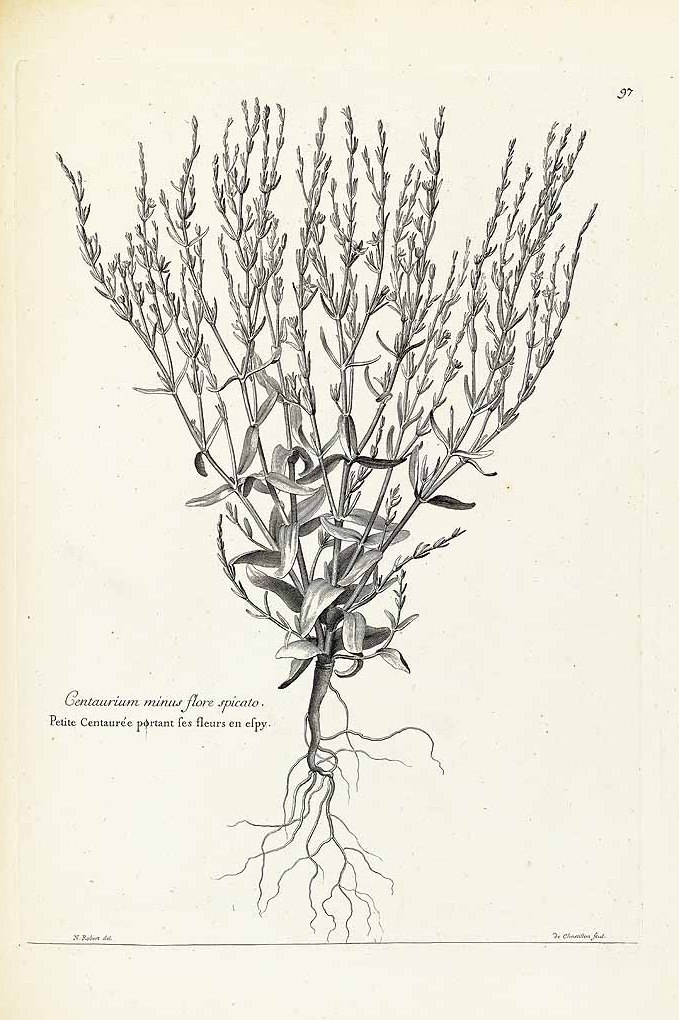 Schenkia spicata (L.) G.Mans. [Centaurium spicatum (L.) Fernald] D.Dodart,vol.1:t.97 (1788)[N.Robert]
http://plantillustrations.org/species.php?species=Gentiana+spicata
Life form:

Annual or biennial

Spinescence:

Non

Succulence:

Non

Stems:

Usually branched from the base or middle

Leaves:

Smooth, stalkless leaves, 1-3 cm long, elliptical or broadly or narrowly oblong to lanceolate, usually light-green, basal (sometimes forming a rosette) and in pairs on the stems.

Inflorescence:

Flowers in spiciforme cyme

Flowers:

Hermaphrodite; corolla pinkish-purple; stamens inserted at or below the ape of the corolla-tube

Fruits / pods:

Narrow-oblong capsule, enclosed by or slightly longer than, the persistent calyx.

Flowering Period:

May, June, July, August

Habitat:

Batha, Phrygana, Humid habitats

Distribution:

Mediterranean Woodlands and Shrublands,Shrub-steppes, Semi-steppe shrublands, Deserts

Chorotype:

Med-Irano-Turanian

Summer shedding:

Ephemeral


Derivation of the botanical name:
Centaurium named after the centaur Chiron, famed in Greek mythology for his skill in medicinal herbs.
spicatum, spica, spike, spicata bearing a spike.
The Hebrew word: ערבז, arbaz is named by Immanuel Löw (1854 – 1944), a Hungarian rabbi, scholar and politician, following the name of the plant in the Syrian language, in his book "The Flora of the Jews".
The standard author abbreviation L. is used to indicate Carl Linnaeus (1707 – 1778), a Swedish botanist, physician, and zoologist, the father of modern taxonomy.
The standard author abbreviation Fritsch is used to indicate Karl Fritsch (1864 – 1934), an Austrian botanist