Crataegus azarolus, Azarole Hawthorn, mosphilla,
Mediterranean medlar, עוזרר אדום ,زعرور

Scientific name:

Crataegus azarolus L.

Common name:

Azarole Hawthorn, mosphilla, Mediterranean medlar

Hebrew name:

עוזרר אדום

Arabic name:

زعرور, Za'rur

Plant Family:

Rosaceae, ורדיים
Life form:

Tree

Spinescence:

Stems

Stems:

Up to 6 m tall, trunk is scabrous, branches rather upright-growing, dense and thorny

Leaves:

Alternate, dissected once, dentate or serrate

Flowers:

White

Fruits / pods:

Pome, a fleshy fruit with a thin skin, not formed from the ovary but from another part of the plant (Accessory Fruits); seeds are contained in chambers in the centre of the fruit

Flowering Period:

April, May

Habitat:

Mediterranean maquis and forest

Distribution:

Mediterranean Woodlands and Shrublands

Chorotype:

Mediterranean

Summer shedding:

Perennating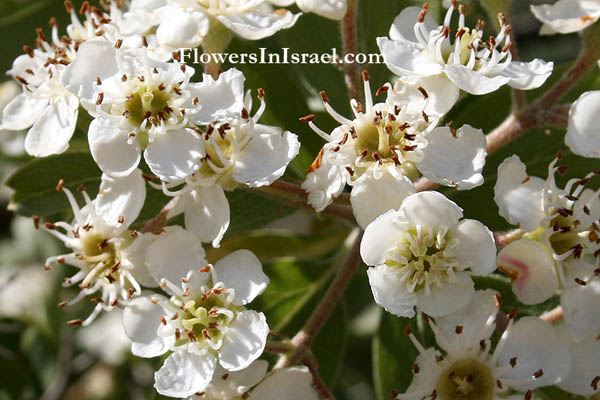 Derivation of the botanical name:
Crataegus, Greek kratus, kratys "strong, mighty," kartos "strength", because of the great strength of the wood, and akakia,akis "tip, thorn, a sharp point" or aigos "a goat," Latin crataegum for the kernel of the fruit of the box-tree (Plinius).
azarolus, from Arabic Za'rur, the name of the fruit.
Hawthorn from haw, originally an Old English term for hedge (from the Anglo-Saxon term haguthorn, "a fence with thorns"), also applies to the fruit.
The Hebrew name: עוזרר, ozrar is mentioned several times in the Mishnah (Tithes, Demai, Kilayim, Okatzim), by the names ozrar or ozrad. Since in Arabic the name za'arur, za'rur (tiny, i.e. tiny apple) has been preserved, it is called ozrar in Modern Hebrew.
The standard author abbreviation L. is used to indicate Carl Linnaeus (1707 – 1778), a Swedish botanist, physician, and zoologist, the father of modern taxonomy.
See the list of Medicinal herbs in Israel, the parts used and their medical uses to treat various diseases.