Crataegus azarolus, Azarole Hawthorn, mosphilla,
Mediterranean medlar, עוזרר אדום ,زعرور
Scientific name:

Crataegus azarolus L.

Common name:

Azarole Hawthorn, mosphilla, Mediterranean medlar

Hebrew name:

עוזרר אדום

Arabic name:

زعرور, Za'rur

Plant Family:

Rosaceae, ורדיים
Life form:

Tree

Spinescence:

Stems

Stems:

Up to 6 m tall, trunk is scabrous, branches rather upright-growing, dense and thorny

Leaves:

Alternate, dissected once, dentate or serrate

Flowers:

White

Fruits / pods:

Pome, a fleshy fruit with a thin skin, not formed from the ovary but from another part of the plant (Accessory Fruits); seeds are contained in chambers in the centre of the fruit

Flowering Period:

April, May

Habitat:

Mediterranean maquis and forest

Distribution:

Mediterranean Woodlands and Shrublands

Chorotype:

Mediterranean

Summer shedding:

Perennating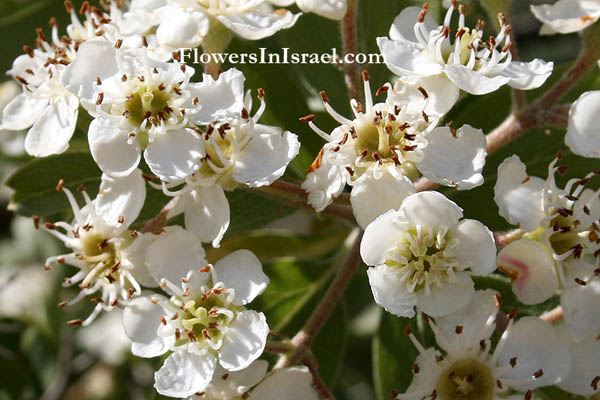 Derivation of the botanical name:
Crataegus, Greek kratus, kratys "strong, mighty," kartos "strength" and akakia,akis "tip, thorn, a sharp point" or aigos "a goat," Latin crataegum for the kernel of the fruit of the box-tree (Plinius).
azarolus, from Arabic Za'rur, the name of the fruit.
The standard author abbreviation L. is used to indicate Carl Linnaeus (1707 – 1778), a Swedish botanist, physician, and zoologist, the father of modern taxonomy.
See the list of Medicinal herbs in Israel, the parts used and their medical uses to treat various diseases.