Crithmum maritimum, Samphire, Sea fennel, Peter's cress,
Hebrew: קריתמון ימי, Arabic: القرثمن البحري

Scientific name:

Crithmum maritimum L.

Common name:

Samphire, Sea fennel, Peter's cress

Hebrew name:

קריתמון ימי

Arabic name:

القرثمن البحري

Plant Family:

Umbelliferae / Apiaceae, סוככים
Life form:

Chamaephyte, semi-shrub

Succulence:

Leaf succulent

Stems:

20-50 cm tall; stem is straight or ascendant, round in cross-section, hollow, striated, somewhat branchy in the upper part

Leaves:

Alternate, dissected, pinnate

Flowers:

five-petaled and pale yellow; arranged in combound umbels

Fruits / pods:

Achene, about 6 mm in diameter; rounded seeds

Flowering Period:

May, June, July, August, September, October

Habitat:

Mediterranean strand

Distribution:

Mediterranean Woodlands and Shrublands

Chorotype:

Med - Euro-Siberian

Summer shedding:

Perennating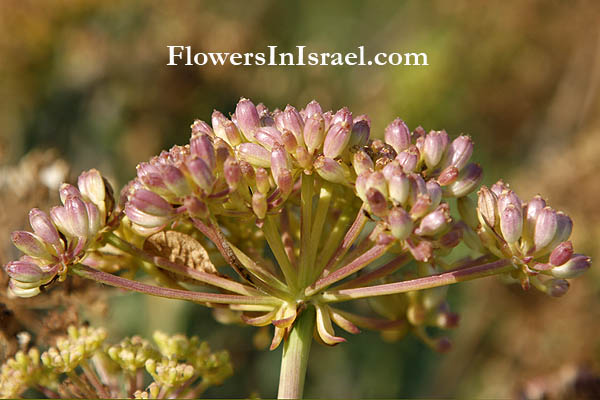 Derivation of the botanical name:
Crithmum, Greek, krithe, barley; refers to the ribbed, ovate seeds.
maritimum, pertaining to the sea.
Samphire, Rock samphire, St Peter's herb, is derived from the French sampiere, "Saint Pierre". Samphire - the word is a corruption of St. Peter, the patron saint of fishermen because all the plants grow in rocky salt-sprayed regions along the sea coast.
The standard author abbreviation L. is used to indicate Carl Linnaeus (1707 – 1778), a Swedish botanist, physician, and zoologist, the father of modern taxonomy.
Crithmum maritimum is a strongly aromatic, salty herb, contains a volatile oil, pectin, is rich in vitamin C and minerals, has diuretic effects, cleanses toxins and improves digestion.

Gerard, 1597: "The leaves kept in pickle and eaten in sallads with oile and vinegar is a pleasant sauce for meat, wholesome for the stoppings of the liver, milt and kidnies. It is the pleasantest sauce, most familiar and best agreeing with man's body.'"
Culpepper, 1640, deplores that it had in his days much gone out of fashion: "Out of fashion, this is deplorable, as it is a great digestive."
This is probably the species mentioned by Shakespeare in King Lear -

"Half-way down, Hangs one that gathers samphire; dreadful trade!"