Crocus pallasii, Crocus haussknechtii, Crocus olbanus,
Autumn Crocus, Fall Crocus,
כרכום נאה

Scientific name:

Crocus pallasii Goldb.

Synonym name:

Crocus haussknechtii (Maw) Boiss.; Crocus olbanus Siehe

Common name:

Autumn Crocus, Fall Crocus

Hebrew name:

כרכום נאה

Family:

Iridaceae, Iris family, אירוסיים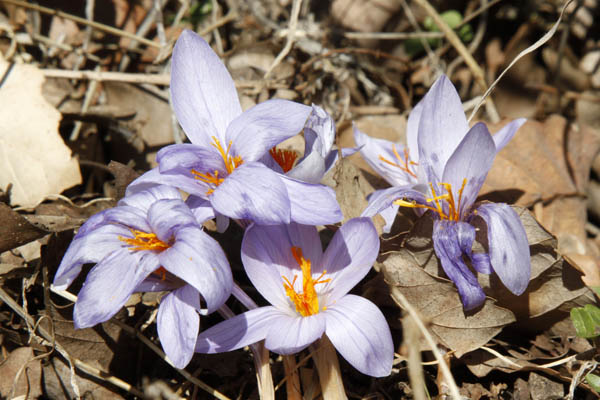 Date Picture Taken: November 28, 2011
Life form:

Geophyte, corm

Stems:

Without

Leaves:

All basal, rosette, narrow ensiform leaf with a white central stripe along the leaf axis, margin entire, leaves 5-11, 1-2mm wide; leaves often absent at anthesis

Inflorescence:

1-4 flowers

Flowers:

Hermaphrodite, lilach, violet, sometimes with darker veins; throat white or lilac, pubescent; perianth-segments 2.5-4.5 cm; yellow anthers; style clearly 3-branched, branches undivided, usually deep red, the tunic fibres of corm filiform

Fruits / pods:

Capsule, 3-4 mm, rounded; plant does not set seed, flowers are sterile

Flowering Period:

October, November

Habitat:

Mediterranean maquis and forest

Distribution:

Mediterranean Woodlands and Shrublands, Montane vegetation of Mt. Hermon

Chorotype:

Med - Irano-Turanian

Summer shedding:

Ephemeral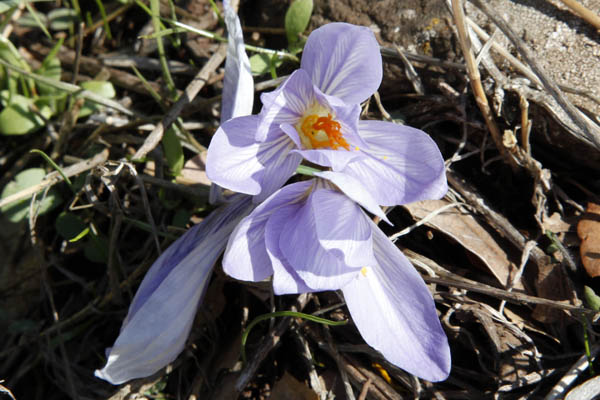 Date Picture Taken: November 28, 2011



Derivation of the botanical name:
Crocus, Greek κρόκος, krokos "thread" and alludes to the stigmas,
In Hebrew it is called: karkom (כרכום), Aramaic kurkama (כרכמא), Persian and Arabic kurkum, all meaning saffron or saffron yellow.
In Talmudic Hebrew, the verb כרכם meant "to be come yellow".
pallasii, named for Peter Simon Pallas (1741 – 1811), a German zoologist and botanist who worked in Russia.
haussknechtii, named for Heinrich Carl Haussknecht (1838 - 1903), a German pharmacist and botanical collector who was a native of Bennungen, Sachsen-Anhalt.
olbanus, from Olba (ancient city) in the Mersin Province in southern Turkey, on the Mediterranean coast between Antalya and Adana, where the crocus was first found.
The standard author abbreviation Goldb. is used to indicate Karl Ludwig Goldbach (1793 - 1824), a Russian botanist.
The standard author abbreviation Maw is used to indicate George Maw (1832 - 1912), an English polymath; his occupations included manufacturing tiles and art pottery, chemistry, geology, botany, archaeology, watercolour painting and gardening.
The standard author abbreviation Boiss. is used to indicate Pierre Edmond Boissier (1810 – 1885), a Swiss botanist, explorer and mathematician.
The standard author abbreviation Siehe is used to indicate Walter Siehe (1859 - 1928), a German engineer with a passion for plants.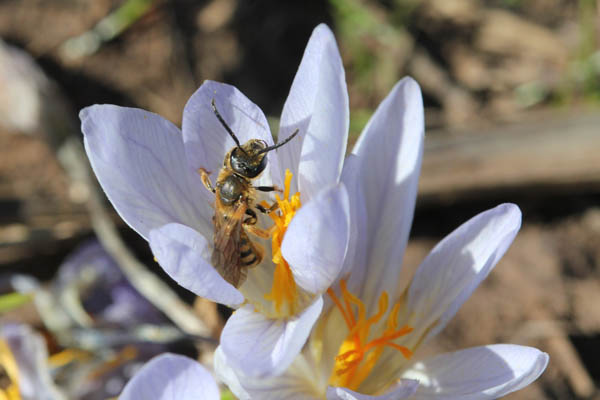 Date Picture Taken: November 28, 2011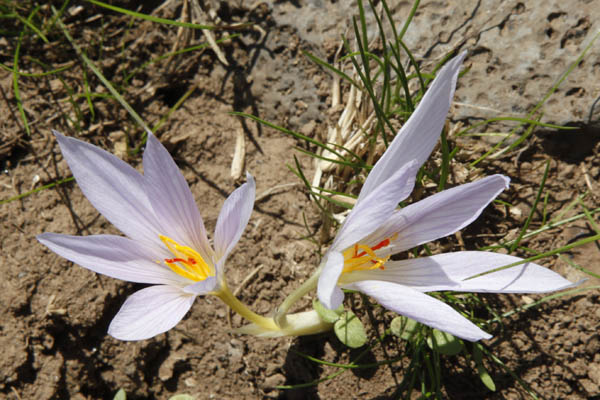 Date Picture Taken: November 28, 2011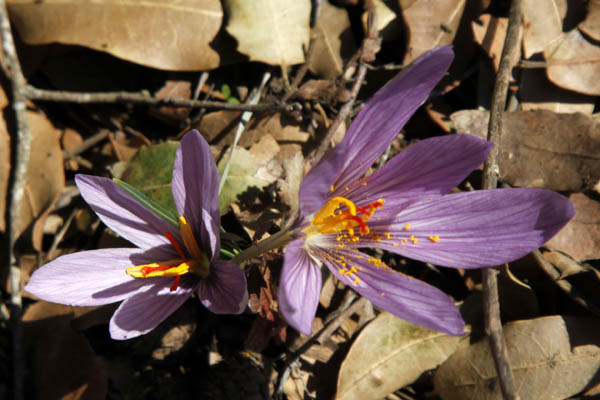 Date Picture Taken: November 28, 2011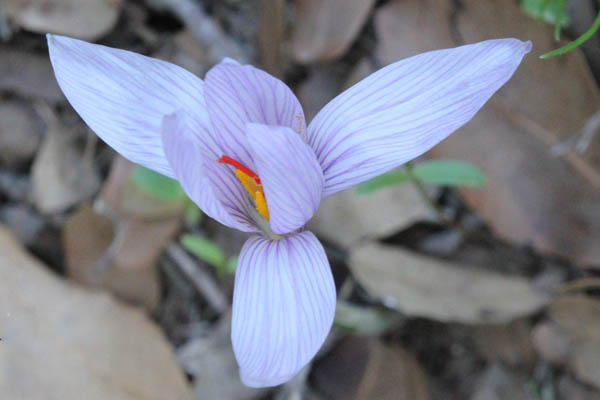 Date Picture Taken: November 28, 2011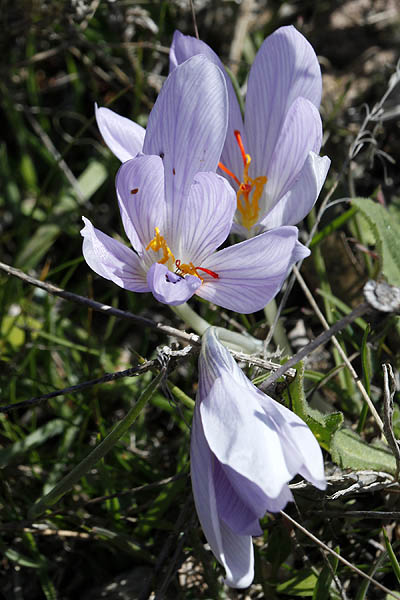 Location: Mount Meron, Peak Trail; Date Picture Taken: December 6, 2011