Life form:

Geophyte, growing from a tuber

Stems:

Upright; flower stem is bent 150-180° at the tip, so that the nose of the flower faces downwards

Leaves:

Rosette, entire, heart-shaped

Flowers:

Solitary and nodding; 5 twisted reflexed petals that are joined shortly at base; violet, white

Fruits / pods:

Round pod; 14-16 mm in diameter

Flowering Period:

January, February, March, April, December

Habitat:

Mediterranean maquis and forest, Batha, Phrygana

Distribution:

Mediterranean Woodlands and Shrublands, Semi-steppe shrublands, Montane vegetation of Mt. Hermon

Chorotype:

Mediterranean

Summer shedding:

Ephemeral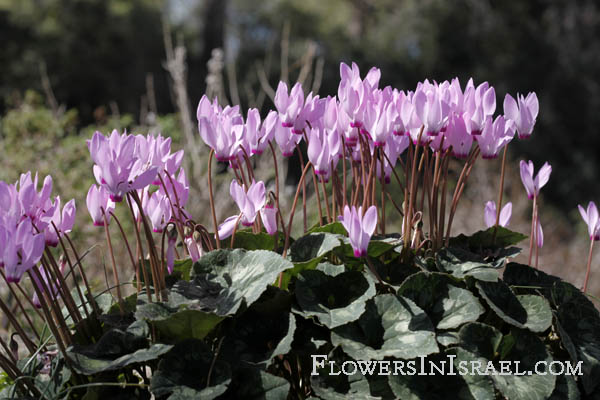 Location: Road 3415, Gad Hills (Givad Gad)



Derivation of the botanical name:
Cyclamen, Greek, kyklaminos, kyklaminon used by Dioscorides and Theophrastus, possibly from kyklos "cirkle, round, ring, circular, globe," referring to the shape of the leaf or to the rounded tubers; Latin cuclaminos, cyclaminon (Plinius) for the plant sowbread.
persicum, of Persia.
The Hebrew name: רקפת, Rakefet, after the Syrian name Rakafta.

The standard author abbreviation Miller is used to indicate Philip Miller (1691 – 1771), a botanist of Scottish descent.
Some say it is the most erotic flower, look to the lower part: a red ring, a light tongue and red lips!
Cyclamen, a genus of plants of the Primrose family, received its name kyklaminos meaning "circle" from its bulblike, underground stem. In most of the 20 known species, the flower scape coils downward after pollination. The ripe seed are then shed near the soil. The flowers are produced in whorls of 3-10, each flower on a slender stem 3-12 cm tall, with five united petals; the petals are usually reflexed back 90° to 180° erect above the flower, and vary from white through pink to red-purple, most commonly pale pink.
Cyclamen persicum is the parent species of the cultivated Cyclamen; they are tuberous plants native to the eastern Mediterranean -southern Turkey, Syria, Lebanon, Jordan and Israel. They grow in the wild as well in Algeria, Tunisia and on the Greek islands of Rhodes, Karpathos and Crete. It is thought that the cyclamen in North Africa and the Greek islands were introduced by monks or other religious orders for they are often found near old monasteries or cemeteries.

The popular name for Cyclamen in Arabic is Sabounat al- Raa'i, סבונת אל-רעי, i.e. soap of the shepherd, testifying that the herdsmen recognized the foaming qualities of Saponin in it and used the leaves or tuber as soap in emergency time. Cyclamen contains a toxic saponin, cyclamin, in the tuberous rhizomes. The extreme acridity would be fair warning not to eat it.

Many English farmers called Cyclamen "stag-truffle" or "sowbread" and in the herbals cyclamen were referred to as sow-bread or Panis porcinus; wild pigs were supposedly fond of the tubers and digging them in the ground with their snouts.

See the list of Medicinal herbs in Israel, the parts used and their medical uses to treat various diseases.

Pedanius Dioscorides, an ancient Greek physician, pharmacologist and botanist who practised in Rome at the times of Nero in the first century CE. He is famous for writing a five volume book De Materia Medica, not just for the history of herbal science; it also gives us knowledge of the herbs and remedies used by the Greeks, Romans, and other cultures of antiquity. Among the "ciclamino" were put many medical uses: women who wished to end their pregnancies would walk over flowering cyclamens in the belief that this could induce miscarriages, it counteracts any kind of poison, especially sea air, it is good against serpent's bite and make a man drunk if it was put in his wine. Ointments made with oil or honey were believed good to treat cataracts and weak eyesight, cleanse the skin to cure blemishes and boils, treat sunburn, and make hair grow.
Dioscorides suggested its use also as a purgative, antitoxin, skin cleanser, and labor-inducer. When used as a purgative, juice from the tuberous root-stock was applied externally, either over the bowels and bladder region or on the anus. Dioscorides also mentioned its use as an aphrodisiac and that the seeds removed sorcery.
Theophrastus (372-287 B.C.) noted that the cyclamen was a symbol of lust because of its use as an aphrodisiac.
And no doubt of the folkloric custom preparing real aphrodisiac of the cyclamen; the powder has no sense of smell, colour and taste, and a woman, who wanted to arouse her man, put it in the soup without showing anything, and went quickly to bed.
Cyclamen tubers were baked and made into cakes and eaten as a love potion.
Powdered cyclamen tubers were and still are used for poisoning fish; if you scatter it on water the fish will float to be able to breathe so that they are an easy catch. The Roman author Pliny also spoke of cyclamens used as a toxic fish bait.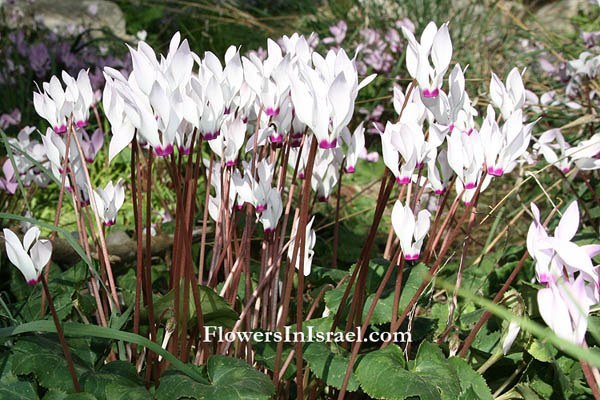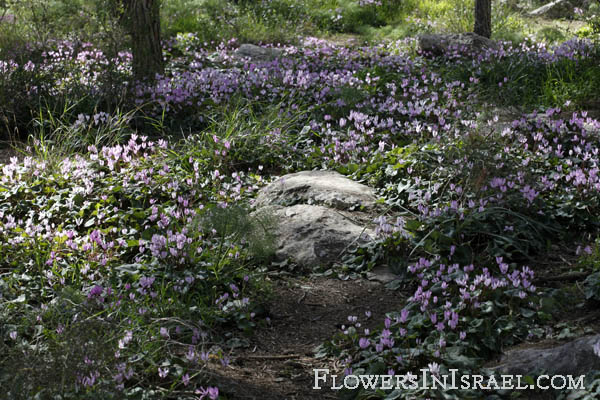 Location: Road 3415, Gad Hills (Givad Gad)



And then you can sing the popular Israeli song:
"Cyclamen"
Lyrics: Levin Kipnis
Music: Folk Singer:Esther Ofarim

Under the rock grows like a wonder
A very cute Cyclamen
The shining sun kisses it
And crowns her with a pink crown

The bird whistles
Look at me for a minute
Beautiful Cyclamen hiding under the rock
Hiding from every thing

Bat sheva went out for a walk
The morning was bright
She collected every flower and plant
Her mouth full with a song

Bat sheva sings
Cyclamen speeds up
peeps out for a moment
Who is looking at me here?
That's CyclamenBat sheva gets closer slowly

Bat sheva gets off the rock
A beautiful Cyclamen on her chest
A bird whistles the wind folndles
And this song comes to an end.

"Rakefet"

Mitachat lasela tzomachat lefele
Rakefet nechmedet me'od
Veshemesh mazheret nosheket oteret
Oteret la keter varod

Rakefet rakefet tzipor metzaftzefet
Hatzitzi ach rega elai
Rakefet nehederet basela nisteret
Nisteret minefesh kol chai

Yatza'a im haruach rakefet lasuach
Haya az haboker bahir
Kol tzemach kol perach osefet baderech
Ufia ach zemer vashir

Bat sheva mezameret rakefet memaheret
Metzitza ach rega echad
Mi zot hanishkefet achen zo rakefet
Bat sheva nigheshet le'at

Misela vageva yoredet Bat sheva
Rakefet chen al hechaze
Tzipor metzaftzefet veruach lotefet
Vesof kvar lazemer haze.
*****

"רקפת"

מלים: לוין קיפניס

מתחת לסלע צומחת לפלא
,רקפת נחמדת מאוד
,ושמו מזהרת נושקת עוטרת
.עוטרת לה כתר ורד
"רקפת, רקפת" צפור מצפצפת
"הציצי אך רגע אלי!"
רקפת נהדרת בסלע נסתרת
.נסתרת מנפש כל הי

,יצאה עם הרוח בת-שבע לשוח
;היה אז הבקר בהיר
כל צמח, כל פרח אוספת בדרך
ופיה אל זמר ושיר... ללללל

בת-שבע מזמרת – רקפת ממהרת
...מציצה אך רגע אחד
!מי זאת הנשקפת? אכן זו רקפת
בת-שבע נגשת לאט... ללללל

מסלע ונגבע יורדת בת-שבע
...רקפת-חן על החזה
ציפור מצפצפת ורוח לוטפת
.וסוף כפר לזמר הזה
*****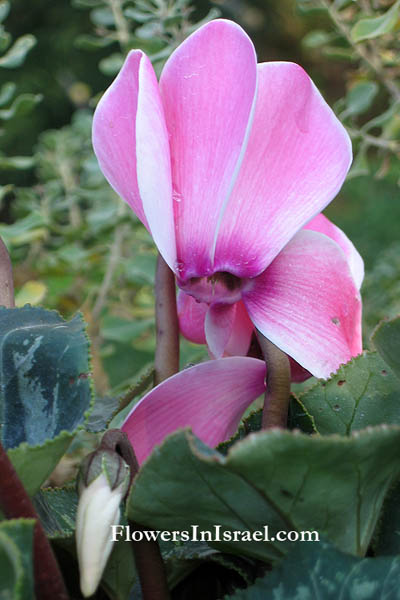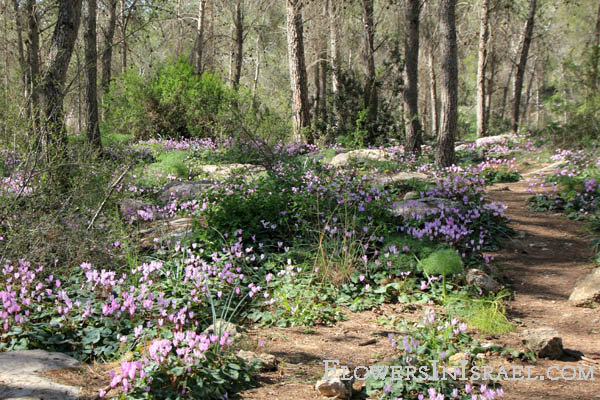 Location: Road 3415, Gad Hills (Givad Gad)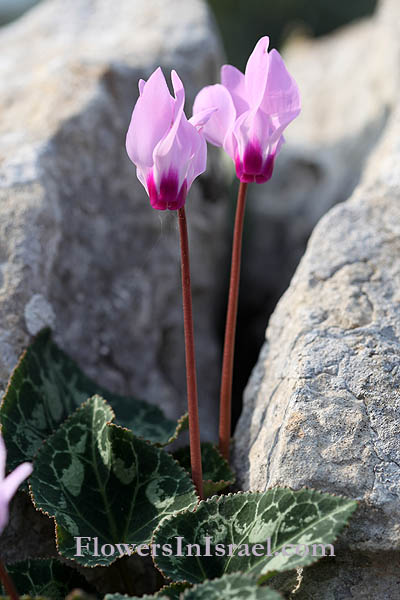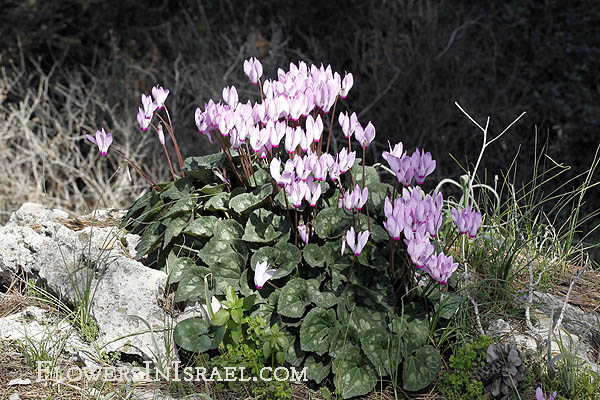 Location: Road 3415, Gad Hills (Givad Gad)


In Israel you will find Cyclamen galore in many places, but special on the Cyclamen Hill (Rakafot Hill) near Kibbutz Galed. From Eliakim Junction on the Fureidis-Yokneam road (near Yokneam), take Route 672 southward to Kibbutz Galed. In 1950 a pine forest was planted and a few years later Cyclamen started to grow, flowering end January- begin February.