Echinops gaillardotii, Gaillardot's globe-thistle,
قَرْقَفان غَيَّرْدوه ,קיפודן גיירדו

Scientific name:

Echinops gaillardotii Boiss.

Common name:

Gaillardot's globe-thistle

Hebrew name:

קיפודן גיירדו

Arabic name:

قَرْقَفان غَيَّرْدوه

Family:

Compositae / Asteraceae, מורכבים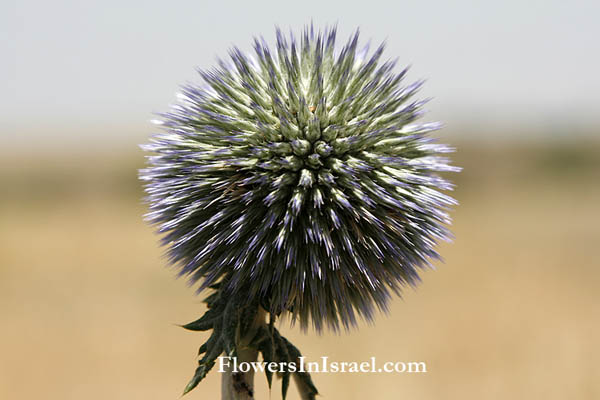 Life form:

Hemicryptophyte

Spinescence:

Leaves, bracts

Stems:

Stem bases not surrounded by remains of old leaves; 100-170 cm tall, few branched, covered with purple (glandular or eglandular) bristles, or white arachnoid to lanate with purple bristles

Leaves:

Alternate, rosette, lanceolate, dissected twice or more, spinescent; arachnoid or with scabrous and glandular hair above, soft white lanate below. Leaf bases with triangular spiny-lobes, 1/2-2/3 palmate at apex. Uppermost leaves sessile, semi-amplexicaule with lanceolate lobes spiny at ends. Leaf axis usually winged.

Flowers:

Heads 4-6 cm diam., capitula 25-30 mm long, bluish-violet; involucral bracts 19-21, glabrous or woolly; middle bracts 22-30 mm long; inner bracts 20-25 mm long, connate in basal 1/2 or more and accrete in to a membranous cylindrical tube; brush dirty white or straw coloured, 14-18 mm, usually 1/2 as long as involucre; corolla bluish-violet.

Fruits / pods:

Achene elliptic, 12-13 mm; pappus connate at base

Flowering Period:

June, July

Habitat:

Batha, Phrygana

Distribution:

Mediterranean Woodlands and Shrublands, Semi-steppe shrublands, Montane vegetation of Mt. Hermon

Chorotype:

Mediterranean

Summer shedding:

Perennating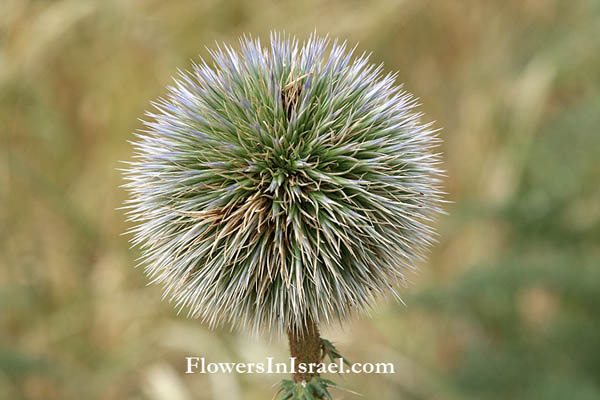 Derivation of the botanical name:
Echinops, echinos, εχινοϛ, sea-urchin, hedgehog; opsis, like; in allusion to this herb's spiny, globe-shaped flower heads of metallic blue.
gaillardotii , named after Charles Gaillardot (1814 - 1883), a French surgeon and botanist in Egypt and Syria (Lebanon).
The Hebrew name: קפודן, קיפודן, kipodan, "a hedgehog", for the flowers are arranged in a spherical inflorescence similar to a hedgehog (kipodan).
The standard author abbreviation Boiss. is used to indicate Pierre Edmond Boissier (1810 – 1885), a Swiss botanist, explorer and mathematician.