Eremostachys laciniata, Phlomis laciniata,
Desert spike, Cut leaved phlomis,
Hebrew: צמר מפוצל, Arabic: ذيل الثعلب , هجنبل

Scientific name:

Eremostachys laciniata (L.) Bunge

Synonym name:

Phlomis laciniata L.

Common name:

Desert spike, Cut leaved phlomis

Hebrew name:

צמר מפוצל

Arabic name:

ذيل الثعلب , هجنبل

Plant Family:

Labiatae / Lamiaceae, שפתניים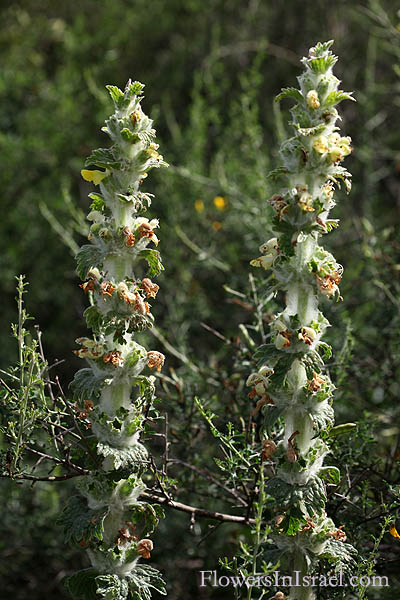 Location: Bene Zion Nature Reserve
Life form:

hemicryptophyte

Stems:

30-75cm high, erect, nearly simple stems

Leaves:

Opposite, rosette; entire; dentate or serrate

Flowers:

Cream, yellow, hermaphrodite

Fruits / pods:

schizocarps. Nutlets

Flowering Period:

February, March, April

Habitat:

Batha, Phrygana

Distribution:

Mediterranean Woodlands and Shrublands, Semi-steppe shrublands, Shrub-steppes, Montane vegetation of Mt. Hermon

Chorotype:

Med - Irano-Turanian

Summer shedding:

Ephemeral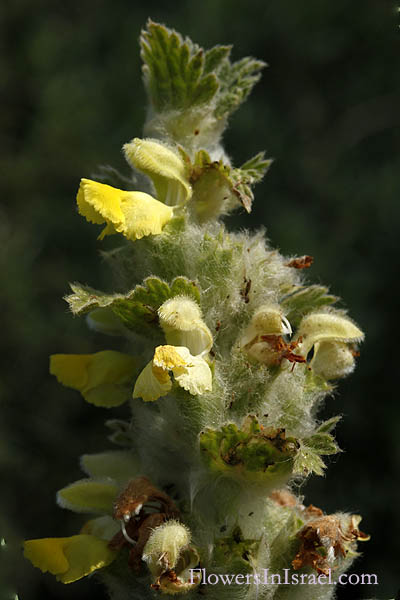 Location: Bene Zion Nature Reserve



Derivation of the botanical name:
Eremostachys, eremos, "solitary," and stachys, "an ear of corn or other grain," and thus meaning "bearing a single spike."
laciniata means "slashed or torn into narrow divisions", and refers to the heavily lobed leaves.
Phlomis, Greek name for some plant without application here to these plants; Jerusalem sage.
The standard author abbreviation L. is used to indicate Carl Linnaeus (1707 – 1778), a Swedish botanist, physician, and zoologist, the father of modern taxonomy.
The standard author abbreviation Bunge is used to indicate Alexander Andrejewitsch von Bunge (1803 – 1890), German-Russian botanist.
See the list of Medicinal herbs in Israel, the parts used and their medical uses to treat various diseases.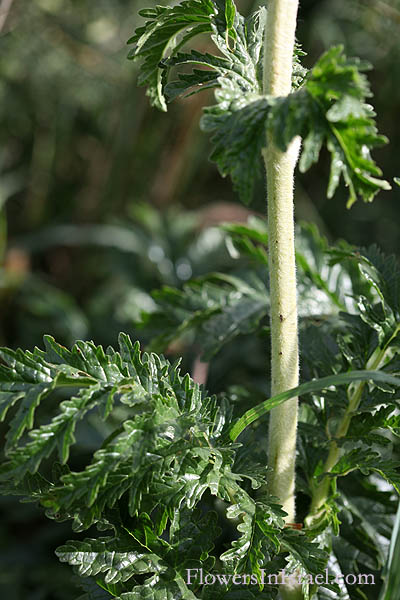 Location: Bene Zion Nature Reserve