Fumana arabica, Arabian cistus,
Hebrew: לוטמית ערבית, Arabic: ورد الشمس

Scientific name:

Fumana arabica (L.) Spach

Synonym name:

Helianthemum arabicum Pers.

Common name:

Arabian cistus

Hebrew name:

לוטמית ערבית

Arabic name:

ورد الشمس

Plant Family:

Cistaceae, לוטמיים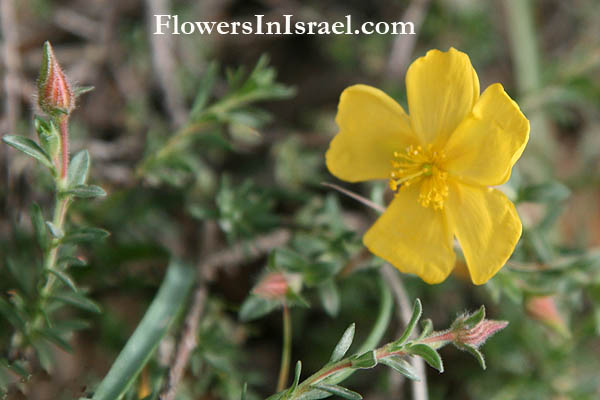 Location: Betah Mountain, Western Galilee
Life form:

Chamaephyte

Stems:

25 cm in height, prostate, ascending, much branched

Leaves:

Alternate, ovate- to oblong-lanceolate, stipulate

Inflorescence:

Solitary or loose racemes

Flowers:

5 Yellow petals; corolla 20-30mm

Fruits / pods:

Capsules 6-8mm

Flowering Period:

March, April, May

Habitat:

Batha, Phrygana

Distribution:

Mediterranean Woodlands and Shrublands, Semi-steppe shrublands, Montane vegetation of Mt. Hermon

Chorotype:

Mediterranean

Summer shedding:

Perennating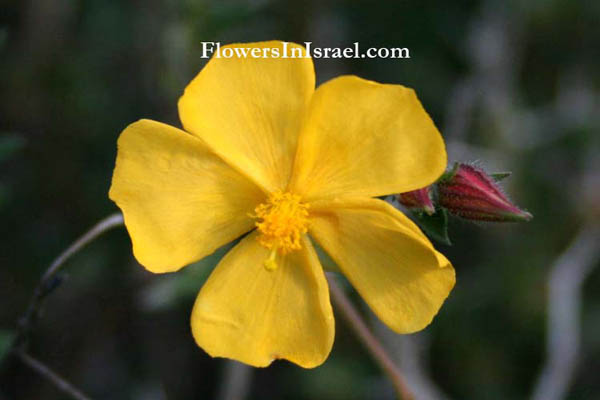 Derivation of the botanical name:
Fumana, Latin fumus, smoke, presumably referring to the nitrous odor of the roots when pulled from the ground.
arabica, of Arabia.
The standard author abbreviation L. is used to indicate Carl Linnaeus (1707 – 1778), a Swedish botanist, physician, and zoologist, the father of modern taxonomy.
The standard author abbreviation Spach is used to indicate Édouard Spach (1801 – 1879), a French botanist.


Fumana thymofolia is up to 25cm, leaves opposite, stipulate; the petals are lemon-yellow, and corolla is 10-15mm; the pedicels are much longer than the subtending bracts; the capsule is 4-4mm, 4-6 seeded.