Galium aparine, Cleavers, Clivers, Catchweed,
Coachweed, Common Bedstraw, Catchweed, Goose Grass,
Stickywilly, Sweet Woodruff, Hebrew: דבקה זיפנית, Arabic: بلسكاء لُزيقة

Scientific name:

Galium aparine L.

Common name:

Cleavers, Clivers, Catchweed, Coachweed, Common Bedstraw, Catchweed, Goose Grass, Stickywilly, Sweet Woodruff

Hebrew name:

דבקה זיפנית

Arabic name:

بلسكاء لُزيقة

Family:

Rubiaceae, פואתיים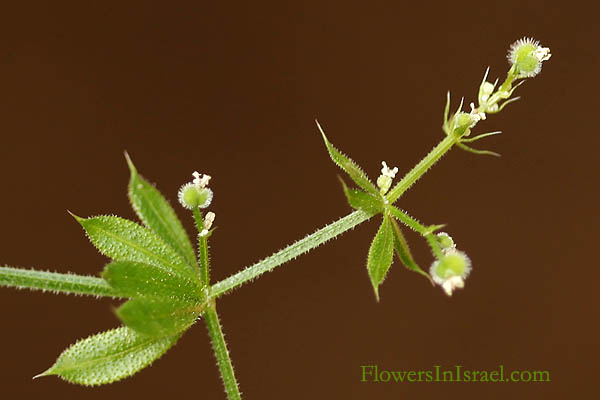 Location: Martha's Backyard
Life form:

Annual

Stems:

Trailing, 60-120 cm; square, short bristly downward pointing hooks at corners

Leaves:

Whorled; entire; smooth margin

Inflorescence:

Usually 3-flowered, stalked clusters in junction of upper leaves

Flowers:

White, hermaphrodite, 4-petalled tubes

Fruits / pods:

Twin, fused, globe-shaped, covered with numerous hairs hooked at tip

Flowering Period:

March, April

Habitat:

Mediterranean maquis and forest

Distribution:

Mediterranean Woodlands and Shrublands, Semi-steppe shrublands, Shrub-steppes, Deserts and extreme deserts, Montane vegetation of Mt. Hermon

Chorotype:

Euro-Siberian - Med - Irano-Turanian

Summer shedding:

Ephemeral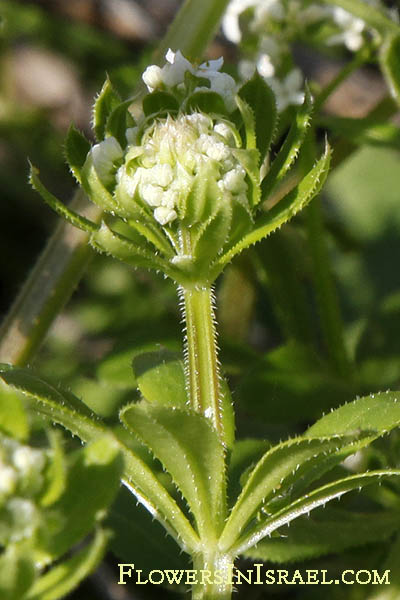 Location: Martha's Backyard



Derivation of the botanical name:
Galium from Greek word gala, "milk," and alluding to the fact that certain species were used to curdle milk.
aparine, Greek name for the plant called cleavers.
The standard author abbreviation L. is used to indicate Carl Linnaeus (1707 – 1778), a Swedish botanist, physician, and zoologist, the father of modern taxonomy.
The root is a permanent red dye.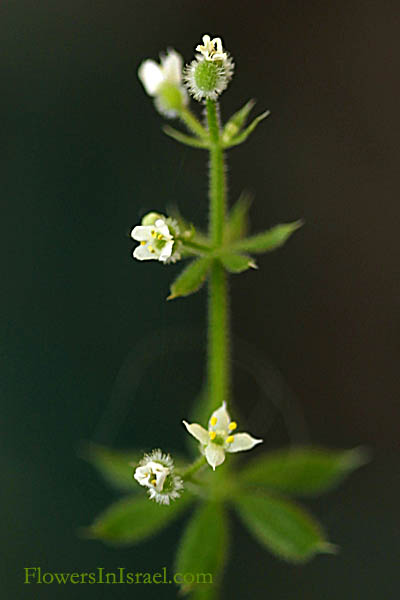 Location: Martha's Backyard