Galium philistaeum, Galium lasianthum,
Galium philistaeum forma calvescens, דבקה פלשת

Scientific name:

Galium philistaeum Boiss.

Synonym name:

Galium lasianthum Eig., Galium philistaeum forma calvescens Feinbrun

Common name:

-

Hebrew name:

דבקה פלשת

Family:

Rubiaceae; Madder, Bedstraw or Coffee family; פואתיים
Life form:

Annual

Stems:

15-30 cm high

Leaves:

Whorled; entire; lanceolate or narrow elliptical, smooth margin

Inflorescence:

Dense clusters of tiny, fragrant flowers

Flowers:

Hermaphrodite; corolla with scattered minute hairs outside

Fruits / pods:

Fruit is variable, sometimes forming multiples

Flowering Period:

March, April, May

Habitat:

Sand

Distribution:

Mediterranean Woodlands and Shrublands, Shrub-steppes

Chorotype:

Mediterranean

Summer shedding:

Ephemeral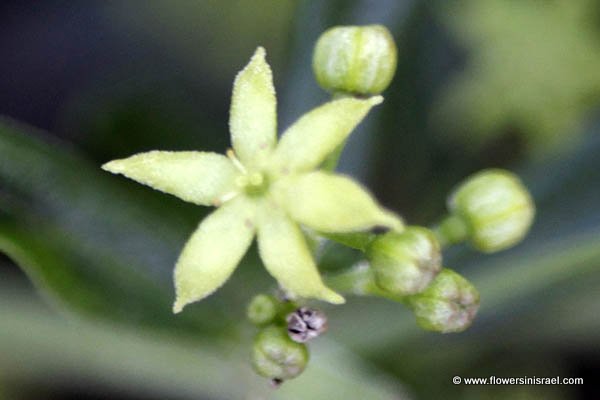 Derivation of the botanical name:
Galium from Greek word gala, "milk," and alluding to the fact that certain species were used to curdle milk.
philistaeum, from Philistine.
lasianthum, lasios λαιοϛ, shaggy, wooly, hairy; anthos ανϑοϛ, flower; woolly flowered.
The standard author abbreviation Boiss. is used to indicate Pierre Edmond Boissier (1810 – 1885), a Swiss botanist, explorer and mathematician.
The standard author abbreviation Eig is used to indicate Alexander Eig (1894 – 1938), a botanist, one of the first plant researchers in Israel, head of department for Botanics at the Hebrew University of Jerusalem, and co-founder of Jerusalem Botanical Gardens on Mount Scopus.
The standard author abbreviation Feinbrun is used to indicate Naomi Feinbrun-Dothan (1900 – 1995), an Israeli botanist.