Life form:

Annual

Stems:

15 cm

Leaves:

Whorled, entire, smooth, shiny, mucronate leaves

Inflorescence:

Cyme, 3-5 flowers on the same stalk

Flowers:

Hermaphrodite; white

Fruits / pods:

Spherical fruit covered with conical protuberances (warts) that gave it its name

Flowering Period:

February, March, April

Habitat:

Cultivated areas (weeds)

Distribution:

Mediterranean Woodlands and Shrublands, Montane vegetation of Mt. Hermon

Chorotype:

Mediterranean

Summer shedding:

Ephemeral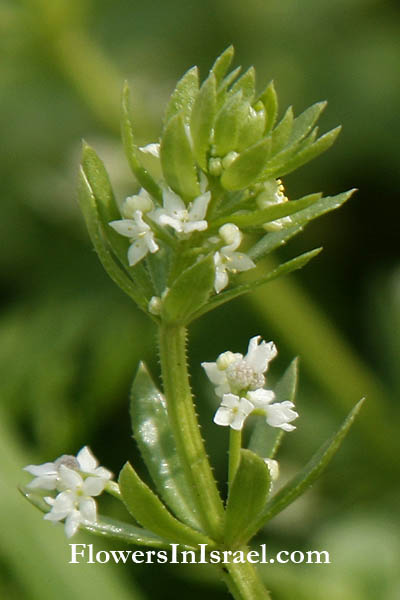 Derivation of the botanical name:
Galium from Greek word gala, "milk," and alluding to the fact that certain species were used to curdle milk.
verrucosum, verrucos, "warty", full of warts.
The standard author abbreviation Hudson is used to indicate William Hudson (1730 – 1793), a British botanist and apothecary based in London.
The standard author abbreviation All is used to indicate Carlo Allioni (1728 – 1804), an Italian physician and professor of botany at the University of Turin.
The standard author abbreviation Weber is used to indicate George Heinrich Weber (1752 – 1828), a German physician and botanist.