Geranium dissectum, Red Cranesbill, Cutleaf geranium,
Cut-leaved Crane's-bill, Wrinkle-seeded Crane's Bill,
Hebrew: גרניון גזור, Arabic: الغرنوقي المنقسم

Scientific name:

Geranium dissectum L.

Common name:

Red Cranesbill, Cutleaf geranium, Cut-leaved Crane's-bill, Wrinkle-seeded Crane's Bill

Hebrew name:

גרניון גזור

Arabic name:

الغرنوقي المنقسم

Family:

Geraniaceae, גרניים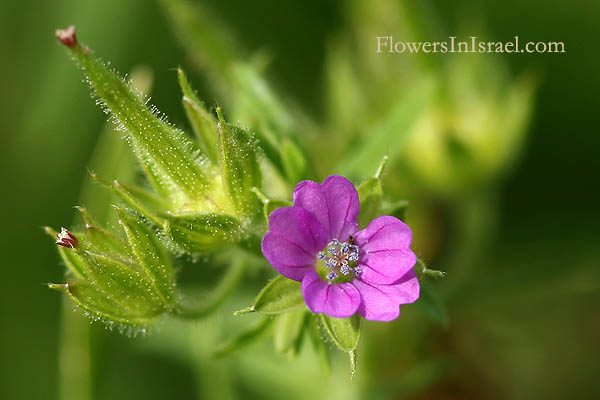 Location: Netanya, the Dora rain pool
Life form:

Annual

Stems:

10-30 cm; ascending to erect; covered with backward-pointing, projecting hairs

Leaves:

Alternate; petiolate, nearly circular in outline, deeply divided (palmatifid) with seven to nine lobes, smooth margin; rough hair on both surfaces, with pointy tips; veins impressed above, expressed below

Inflorescence:

Terminal or axillary clusters of 2 stalked flowers

Flowers:

Hermaphrodite; 5 violet pink petals, rounded or notched tip

Fruits / pods:

Carpels, 5-segmented beaklike fruit; body 2–3 mm, minutely bristly; style column 12–15 mm; beak 2–3 mm; seeds deeply pitted, gray-brown

Flowering Period:

February, March, April

Habitat:

Humid habitats

Distribution:

Mediterranean Woodlands and Shrublands, Semi-steppe shrublands

Chorotype:

Med - Euro-Siberian

Summer shedding:

Ephemeral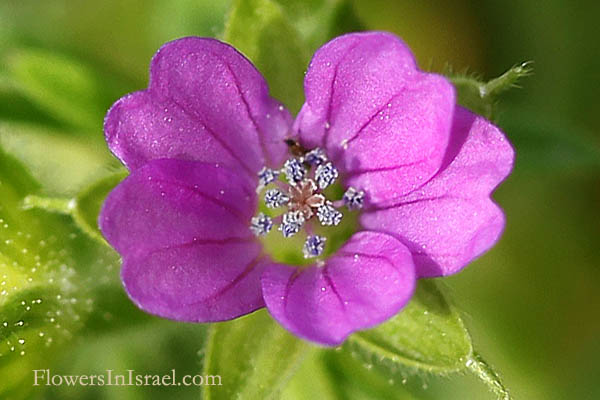 Location: Netanya, the Dora rain pool



Derivation of the botanical name:
Geranium, from Greek γέρανος geranos, a crane; in allusion to the long beak of the carpels.
dissectum, di, between, away from; seco to cut, cut off, cut up; divide, separate; dissected, as in leaves; finely cut.
The Hebrew word: גרניון, geranion.
The standard author abbreviation L. is used to indicate Carl Linnaeus (1707 – 1778), a Swedish botanist, physician, and zoologist, the father of modern taxonomy.