Gypsophila capillaris, Gypsophila arabica, Desert Baby's Breath,
Hebrew: גבסנית ערבית, Arabic: سليح –خمسات-عشب الذهبي- رقيجة.

Scientific name:

Gypsophila capillaris (Forssk.) C.Chr.

Synonym name:

Gypsophila arabica Barkoudah

Common name:

Desert Baby's Breath

Hebrew name:

גבסנית ערבית, גפסנית ערבית

Arabic name:

سليح –خمسات-عشب الذهبي- رقيجة.

Family:

Caryophyllaceae, carnation family, ציפורניים
Life form:

Chamaephyte

Stems:

Up to 10-80 cm, woody base, erect stems

Leaves:

Opposite, simple linear to lanceolate below, linear above, smooth margin

Inflorescence:

Lax panicles

Flowers:

Pedicels capillary, up to 33mm; calyx campanulate-obconical, 2-3mm; White petals with lilac to purple veins, oblong-elliptical, c. 2x as long as the calyx

Fruits / pods:

Capsule, globose; usually 2 or more seeds, smooth to tuberculate

Flowering Period:

April, May, June, July, August, September, October, November

Habitat:

Desert, Shrub-steppes

Distribution:

Mediterranean Woodlands and Shrublands, Semi-steppe shrublands, Shrub-steppes, Deserts and extreme deserts

Chorotype:

Irano-Turanian

Summer shedding:

Perennating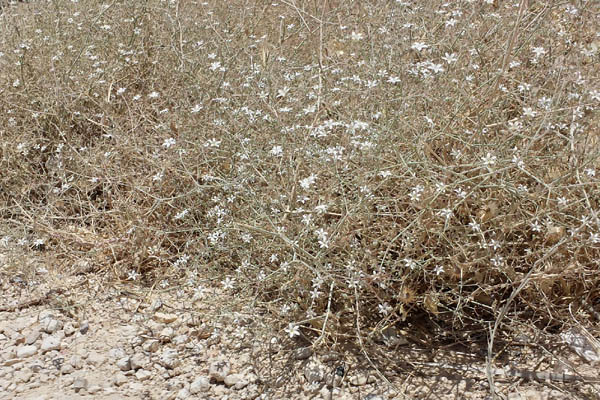 Derivation of the botanical name:
Gypsophila, Greek γυψοϛ gypsos, gypsum; philos, a friend; a reference to the gypsum-rich substrates on which some species grow.
capillaris, capillus, hair; hair like.
arabica, of Arabia.
The Hebrew name: גבסנית, gybsanit, Gypsophila, formed from gypsum; from גפסים (= mortar, plaster, gypsum), which, together with Arabic jibs probably derives from Akkadian gassu; Greek: gypsos ( = chalk), is of Semitic origin.
The standard author abbreviation Forssk. is used to indicate Peter Forsskål (1732 – 1763), a Swedish explorer, orientalist, naturalist and an apostle of Carl Linnaeus.
The standard author abbreviation C.Chr. is used to indicate Carl Frederik Albert Christensen (1872 – 1942), Danish systematic botanist.
The standard author abbreviation Barkoudah is used to indicate Youssef Ibrahim Barkoudah (1933 -), born in Dayr-Atiyah, Syria, botanist, plant collector, specialty author Spermatophytes.