Iris pseudacorus,
Yellow iris, Yellow Waterflag, Jacob's sword,
Hebrew: אירוס ענף, Arabic: السوسن الشمالي الكاذب

Scientific name:

Iris pseudacorus L.

Common name:

Yellow iris, Yellow Waterflag, Jacob's sword

Hebrew name:

אירוס ענף

Arabic name:

السوسن الشمالي الكاذب

Nederlandse naam:

Gele lis

Family:

Iridaceae, אירוסיים
Life form:

Geophyte

Stems:

75-160 cm high

Leaves:

Rosette, entire

Flowers:

Yellow

Fruits / pods:

Loculicidal capsules

Flowering Period:

April, May

Habitat:

Humid habitats

Distribution:

Mediterranean Woodlands and Shrublands

Chorotype:

Euro-Siberian - Med - Irano-Turanian

Summer shedding:

Perennating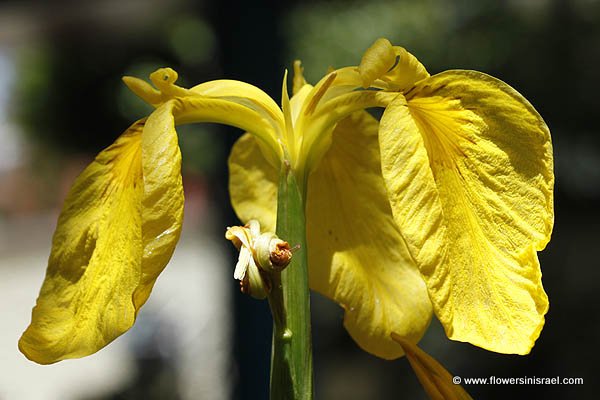 Derivation of the botanical name:
Iris, ιριϛ, ιδοϛ, rainbow; female messenger, announcer of the gods, the Greek goddess of the rainbow.
pseudacorus, ψευδηϛ, false, i.e. resembling but not equalling; acorus, the generic name of the sweet sedge.
Iris pseudacorus is simply often called " segg," a corruption of the word sedge, and both derived from the Anglo-Saxon word segg, a small sword, the name being employed in obvious allusion to the long sword-shaped leaves that rise so boldly from the water. It is also called the fleur-de-lys and the yellow flag, the outer segments of the perianth fluttering in the breeze in a degree that suggested to some early writers the waving of a flag.
The Hebrew name: אירוס, iris, transliteration from the scientific name.
The standard author abbreviation L. is used to indicate Carl Linnaeus (1707 – 1778), a Swedish botanist, physician, and zoologist, the father of modern taxonomy.

Link: Fleur-de-lis,fleur-de-lys, fleur-de-luce,lily flower, שושן, פלור דה ליס