Leontice leontopetalum, Rakaf, Leontice, Lion's foot, Lion's Leaf, Lion's Turnip,
Hebrew: ערטנית השדות, Arabic: رجل الأسد

Scientific name:

Leontice leontopetalum L.

Common name:

Rakaf, Leontice, Lion's Leaf, Lion's Turnip

Hebrew name:

ערטנית השדות

Arabic name:

رجل الأسد

Family:

Berberidaceae, Barberry family, ערטניתיים
Life form:

Geophyte

Stems:

30-40cm in height, glabrous, fleshy; tuberous rhizome, stout

Leaves:

Alternate, rosette, dissected, dentate or serrate

Inflorescence:

Flowers in terminal branched racemes, a broad pyramidal spike

Flowers:

Yellow, 10-15mm, 6-8 petals

Fruits / pods:

Capsule ovoid

Flowering Period:

February, March, April

Habitat:

Shrub-steppes

Distribution:

Mediterranean Woodlands and Shrublands, Semi-steppe shrublands, Shrub-steppes, Deserts and extreme deserts

Chorotype:

Mediterranean

Summer shedding:

Ephemeral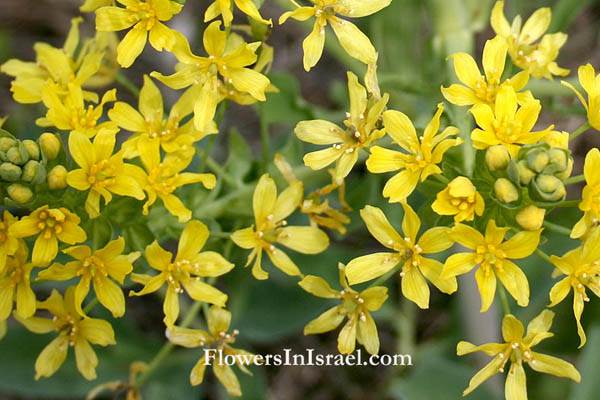 Derivation of the botanical name:
Leontice, leon, λεων, οντιϛ, a lion; referring to the shape of the leaf.
leontopetalum, Greek leonto, Lion; Latin petalum, petal; Lion's-petals.
The Hebrew Name: ערטנית, artanit (New Hebrew), lion's ear, leontice; borrowed from Syrian: ערטניתא, artenita.
The standard author abbreviation L. is used to indicate Carl Linnaeus (1707 – 1778), a Swedish botanist, physician, and zoologist, the father of modern taxonomy.
The tuberous roots of Leontice leontopetalum contain so much alkali that they are sometimes used as a substitute for soap.