Common name
Purple Loosestrife, Purple lythrum, Rainbow weed, Spiked loosestrife
Life form:

Hemicryptophyte

Stems:

80-220 cm high, erect, 4-angled, pubescent;becoming woody with age

Leaves:

Stalkless leaves, opposite, entire, lanceolate to narrowly oblong, sometimes covered with fine hairs; the variability in pubescence and leaf shape is influenced by light levels - leaf area increases and fine hairs decrease with lower light levels

Inflorescence:

Flower spikes, 1- to multi-flowered whorled axillary cymes, 15-35 cm

Flowers:

Pink, complete flower, 5-7 petals, same number of sepals as petals, and twice as many stamens as petals; usually 6 sepals, 6 petals, 12 stamens; ovary superior, with two fused carpels

Fruits / pods:

Capsule, two-valved

Flowering Period:

June, July, August, September, October, November

Habitat:

Humid habitats

Distribution:

The Mediterranean Woodlands and Shrublands, Semi-steppe shrublands, Deserts and extreme deserts

Chorotype:

Plurireginalbor-trop

Summer shedding:

Perenating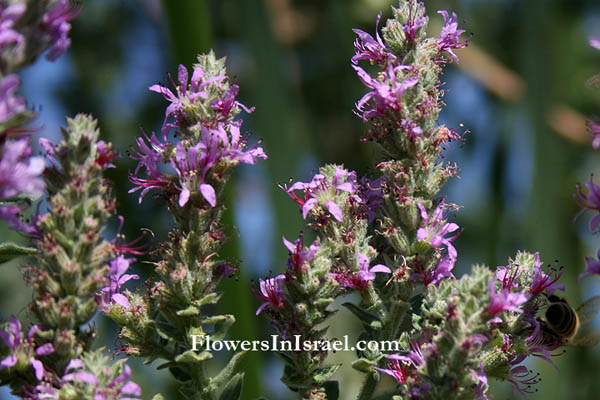 Derivation of the botanical name:
Lythrum, Greek lythron, "blood," from the color of the flowers.
salicaria, salix, a willow-tree, arius, connected to or possessed by; willow like.
The standard author abbreviation L. is used to indicate Carl Linnaeus (1707 – 1778), a Swedish botanist, physician, and zoologist, the father of modern taxonomy.