Life form:

Evergreen trees

Stems:

Bark is rough but unfurrowed, brown and dark red when cut

Leaves:

Leaves in whorls of 3 or rarely of 4 or paired or solitary, lamina narrow-elliptic to obovate, 7–15 cm long, 2–4 cm wide, apex obtuse, margins entire or with coarse prickly teeth, undulate, leathery, glabrous, with 7–12 pairs of main lateral veins; petiole 5–10 mm long.

Inflorescence:

Racemes axillary on mature new growth or on leafless older shoot, pendulous, 10-30 cm long, with 100-500 flow

Flowers:

s; flowers in groups of 2-4, about 12 mm long, creamy-white, pink; pedicles 3-4 mm long; perianth tubular with 4 petaloid sepals.

Fruits / pods:

Globose follicle, 2-3.5cm diam.; seed 2–3cm diam., harvesting: August, September

Flowering Period:

April

Habitat:

Wide range of soil types from open sands and lava rock soils to heavy clay soils, as long as the soil is well drained

Chorotype:

Australia

Summer shedding:

Perenating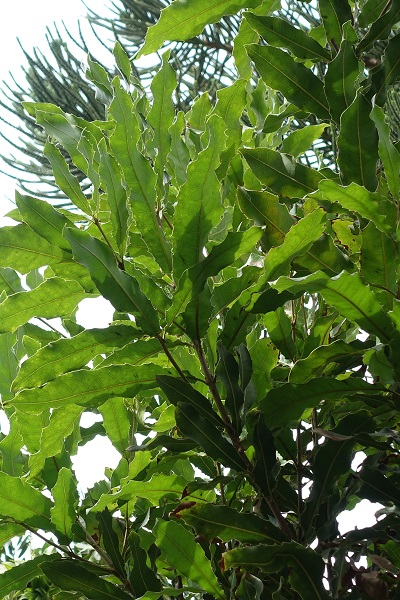 Derivation of the botanical name:
Macadamia, after John Macadam (1827 – 1865), a Scottish-Australian chemist, medical teacher, Australian politician and cabinet minister. Honorary Secretary of the Burke and Wills expedition. The genus Macadamia was named after him in 1857. He died in Australia aged 38.
integrifolia, from Latin integer, entire and folium, a leaf, referring to the leaf margins which do not have teeth.
The standard author abbreviation Maiden is used to indicate Joseph Maiden (1859–1925), a botanist who made a major contribution to knowledge of the Australian flora, especially the Eucalyptus genus.
The standard author abbreviation Betche is used to indicate Daniel Ludwig Ernst Betche (1851, in Potsdam – 1913, in Sydney), a German-Australian horticulturist and botanist.

Macadamias were introduced into Israel in the 1950s; some of the first trees were planted in the experimental plot on the grounds of the Weizmann Institute, Rehovot.