Michauxia campanuloides, Rough-leaved Michauxia,
Hebrew: מישויה פעמונית, Arabic: مثوية جرسية

Scientific name:

Michauxia campanuloides L'Her

Common name:

Rough-leaved Michauxia

Hebrew name:

מישויה פעמונית

Arabic name:

مثوية جرسية

Plant Family:

Campanulaceae, פעמוניתיים
Life form:

Hemicryptophyte

Stems:

100-200 cm high; pilose

Leaves:

Alternate, entire, dentate or serrate

Inflorescence:

Solitary, up to 4 cm, nodding

Flowers:

White; calyx 8-10 cleft, having the recesses covered by appendages; corolla 8-10-parted, rotate; stamens 8-10, free; filaments very broad, membranous; anthers yellow; style covered by hairs; stigma 8, filiform

Fruits / pods:

Capsule drooping, 8-10-valved, dehiscing at the base; numerous seeds, ovate

Flowering Period:

April, May, June

Habitat:

Hard rock outcrops, mesic habitat

Distribution:

Mediterranean Woodlands and Shrublands, Montane vegetation of Mt. Hermon

Chorotype:

Mediterranean

Summer shedding:

Ephemeral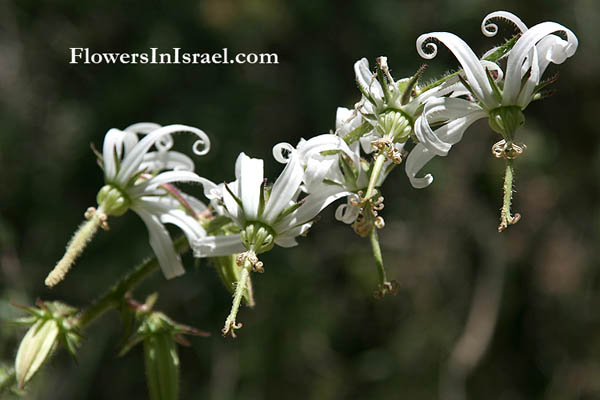 Derivation of the botanical name:
Michauxia, named for Andre Michaux (1746-1803), one of the most extraordinary and dynamic individuals of early explorations in North America and the first trained botanist to explore extensively the wilderness east of the Mississippi River, including Spanish East Florida.
campanuloides, resembling Canpanula, Bellflower.
The Hebrew name: מישויה , transliteration from the scientific name.
The standard author abbreviation L'Her is used to indicate Charles Louis L'Héritier de Brutelle (1746 – 1800), a French botanist and magistrate.