Life form:

Chamaephyte

Stems:

40-70 cm; erect, minutely whitish-velutinous; branches divaricate

Leaves:

Opposite, lanceolate to ovate-orbicular; entire margin

Inflorescence:

Verticillasters with 10-30 flowers, lax, greatly exceeding subtending leaves

Flowers:

Calyx, obovoid-tubular, villous in throat; corolla, White

Fruits / pods:

Nutlets obtuse

Flowering Period:

February, March, April, May, June

Habitat:

Hard rock outcrops

Distribution:

Mediterranean Woodlands and Shrublands

Chorotype:

Mediterranean

Summer shedding:

Perenating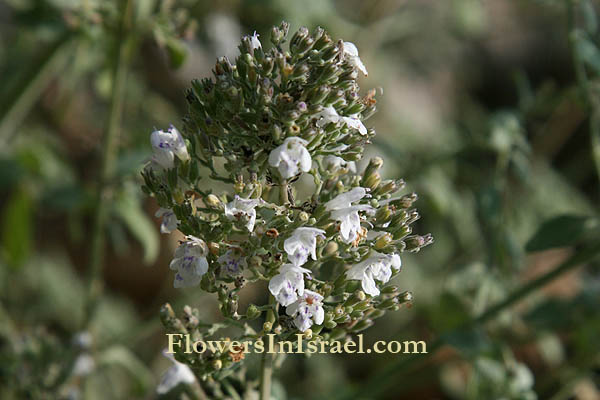 Location: Ramat Hanadiv ("heights of the benefactor")



Derivation of the botanical name:
Micromeria, mikros (Greek), "small", meris, "a part"; the flowers of these low-growing herbs and sub-shrubs are very small.
fruticosa, frutex (Latin), "a shrub", therefore, shrubby, bushy.
serpyllifolia, with leaves like Thymus serpyllum.
The standard author abbreviation L. is used to indicate Carl Linnaeus (1707 – 1778), a Swedish botanist, physician, and zoologist, the father of modern taxonomy.
The standard author abbreviation Druce is used to indicate George Claridge Druce (1850 – 1932), an English botanist and a Mayor of Oxford.
The standard author abbreviation M.Bieb. is used to indicate Friedrich August Marschall von Bieberstein (1768 - 1826), a German explorer.
The standard author abbreviation Boiss. is used to indicate Pierre Edmond Boissier (1810 – 1885),a Swiss botanist, explorer and mathematician.
Micromeria fruticosa, a native herb, the leaves are used for tea.