Nerium oleander, Oleander,
Hebrew: הרדוף הנחלים, Arabic: دفلة
"Listen to me, my faithful children,
and blossom like a rose growing by a stream of water."
Sirach 39:13 (Ben Sira, circa 180–175 BCE)

Scientific name:

Nerium oleander L.

Common name:

Oleander

Hebrew name:

הרדוף הנחלים

Arabic name:

دفلة

Plant Family:

Apocynaceae, Dogbane family, הרדופיים
Life form:

Phanerophyte shrub

Stems:

Up to 4m

Leaves:

Alternate, whorled, linear-lanceolate, acute, coriaceous (leather-like); evergreen

Inflorescence:

Terminal, corymbose

Flowers:

Calyx densely glandular inside; corolla 3-4cm in diameter, usually pink, cylindrical below, infundibuliform above; tube 2cm, 5 lobes 2cm, obtuse, patent; anther-appendages long, hairy, twisted

Fruits / pods:

Follicles, reddish-brown

Flowering Period:

March, April, May, June, July, August

Habitat:

Humid habitats

Distribution:

Mediterranean Woodlands and Shrublands, Semi-steppe shrublands, Deserts and extreme deserts, Montane vegetation of Mt. Hermon

Chorotype:

Mediterranean

Summer shedding:

Perennating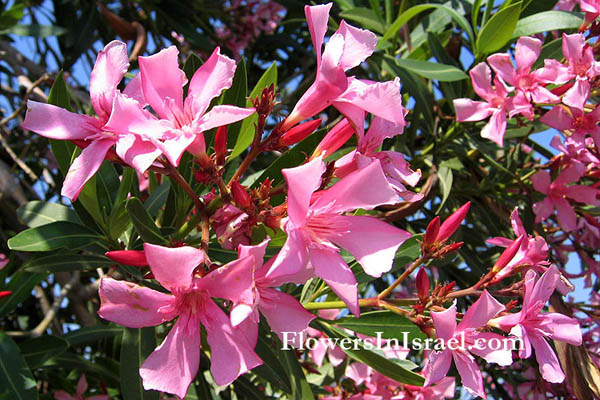 Derivation of the botanical name:
Nerium, Oleander. Rose bay. The classical Greek name.
oleander, olea, ελαια, an olive; lorandrum, Late Latin, rhododendron; Nerium.
The Hebrew name: הרדוף, hardoph, Nerium oleander; together with Syrian: הרדוף borrowed from Greek: rododaphne ( Nerium oleander; lit.: 'rose laurel'), from rodon (=rose) and daphne (=laurel).
The standard author abbreviation L. is used to indicate Carl Linnaeus (1707 – 1778), a Swedish botanist, physician, and zoologist, the father of modern taxonomy.
Pliny the Elder book XVI 79 :"The oleander, as is shown by its name, comes from the Greeks; it is an evergreen that resembles a rose-tree, and throw out shoots for the stems; it is poiseness for cattle and for goats and sheeps, but for man it serves as an antidote against the poisons of snakes."
H.B.Tristram, The Natural History of the Bible: "-unequalled for the gorgeous beauty of its flowers, which shed a glowing sheet of pink over the fringe of every lake and water-course for several weeks in the early summer. This plant, the Oleander (Nerium oleander), undoubtedly indigenous, is not specially mentioned in Scripture."

In folk medicine it treats dermatitis, edema, hypertension and ringworm.

See the list of Medicinal herbs in Israel, the parts used and their medical uses to treat various diseases.

Bible Resources:

2 Esdras 9:26
So I went my way into the field which is called Ardath, like as he commanded me; and there I sat among the flowers, and did eat of the herbs of the field, and the meat of the same satisfied me.
Book of Sirach (or Ecclesiasticus) 24:18
I was exalted like a palm tree in Cades, and as a rose plant in Jericho:
Book of Sirach (or Ecclesiasticus) 39:17
By a voice he saith: Hear me, ye divine offspring, and bud forth as the rose planted by the brooks of waters.