Oenothera drummondii, Beach evening primrose,
Hebrew: נר-הלילה החופי, Arabic: الأخدرية

Scientific name:

Oenothera drummondii Hook.

Common name:

Beach evening-primrose

Hebrew name:

נר-הלילה החופי

Arabic name:

الأخدرية

Family:

Onagraceae, נר-הלילה
Life form:

Chamaephyte

Stems:

Erect to procumbent; 10-50 cm tall, stiff, simple or branched, strigillose, glandular puberulous on inflorescence

Leaves:

Alternate, entire

Flowers:

Yellow; Perfect, actinomorphic, 4-merous, with hypanthium; carpels syncarpous, ovary inferior; ovules often numerous, axile or parietal; pollen sometimes with viscin threads

Fruits / pods:

Capsules cylindric, sessile

Flowering Period:

April, May, June, July, August, September

Habitat:

Mediterranean strand

Distribution:

Mediterranean Woodlands and Shrublands

Chorotype:

American

Summer shedding:

Perennating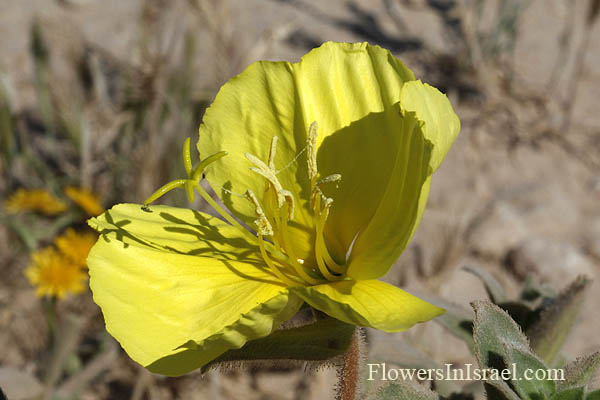 Derivation of the botanical name:
Oenothera, Greek, oinos, wine; thera, booty; wine catcher. The root when eatenh was supposed to increase one's capacity for wine.
drummondii, named after Thomas Drummond (1790-1835), a Scottish naturalist.
The Hebrew Name: נר הלילה, Ner-HaLaila, Night candle, the flowers open at night and at dusk they are visible in the distance hence their Hebrew name "Night candle".
The standard author abbreviation Hook. is used to indicate William Jackson Hooker (1785 – 1865),an English systematic botanist and organiser.
Flowers open near sunset, one per stem per day.
The oil from the Oenothera contains gamma-linoleic acid "(GLA), an unsaturated fatty acid, which assists the production of hormonlike substances. The herb is used internally for e.g. premenstrual and menopausal symptoms.