Opuntia ficus-indica, Opuntia occidentalis, Cactus ficus-indica,
Opuntia compressa, Opuntia opuntia, Opuntia vulgaris,
Prickly Pear, Barbary fig, Tuna fig,
Hebrew: צבר מצוי ,Arabic: صبير التين الهندي
Scientific name:

Opuntia ficus-indica (L.) Mill.

Synonym name:

Cactus compressus Salisbury, Cactus ficus-indica L., Opuntia compressa J.F. Macbr.,
Opuntia opuntia (L.) H.Karst., Opuntia vulgaris Mill.

Common name:

Prickly Pear, Barbary fig, Tuna fig

Hebrew name:

צבר מצוי

Arabic name:

صبير التين الهندي, sabir altyn alhindii

Family:

Cactaceae, משפחת הצבריים
Life form:

Shrub

Leaves:

Fleshy' leaves, entire with needles and irritant hairs

Flowers:

Yellow; edible fruit

Flowering Period:

April. May, June, July

Habitat:

Original habitat is obscure; dry arid and rocky places

Distribution:

The Mediterranean Woodlands and Shrublands, Semi-steppe shrublands

Chorotype:

Non-Native: Naturalized

Summer shedding:

Ephemeral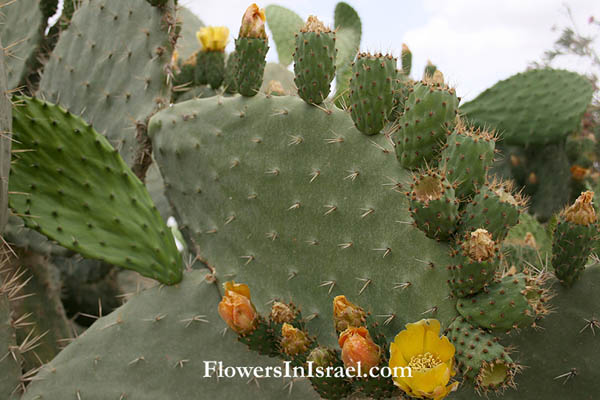 Derivation of the botanical name:
Opuntia, Greek name used by Pliny for a different spiny plant which grew around the town of Opus in Greece.
indica, Indian.
Cactus (Latin) cardoon (Cynara cardunculus), Greek kaktos, κάκτος; Linnaeus in 1753 applied this name generically to a genus he called Cactus, which was later reassigned as a family, Cactaceae.
compressus, comprimo, to compress, squeeze together; compressed, flattened.
vulgaris, common.
The Hebrew name: sabra, צבר, tzabar, from spoken Arabic, Sabar-صبار, which means "patience", due to a minority of consumption in irrigation.
The standard author abbreviation L. is used to indicate Carl Linnaeus (1707 – 1778), a Swedish botanist, physician, and zoologist, the father of modern taxonomy.
The standard author abbreviation Mill. is used to indicate Philip Miller (1691 – 1771), a botanist of Scottish descent.
The standard author abbreviation Salisbury is used to indicate Richard Anthony Salisbury (1761 – 1829), a British botanist.
The standard author abbreviation J.F. Macbr. is used to indicate James Francis Macbride (1892 – 1976), an U.S.A botanist.
The standard author abbreviation H.Karst. is used to indicate Gustav Karl Wilhelm Hermann Karsten (1817 - 1908) , a German botanist and geologist.
Recent DNA analysis indicates that Opuntia ficus-indica is a crop domesticated from ancestral stock of arborescent, fleshy fruited plants growing in central Mexico. From this center of origin, Opuntia ficus-indica cultivation likely spread through trade amongst the peoples of Mesoamerica.

Prickly pears were imported into Palestine in the 18th century for use as a natural agricultural fence surrounding animal enclosures by Bedouin. No Opuntia cacti were known anywhere in the Old World until after the introduction from America.
The "sabre" is still to be found today in the western Negev and to a lesser extent in the northern and eastern Negev, is cultivated for the edible fruit.
Flowering usually starts in mid-May and lasts until mid-June. Flowers remain open for 36 to 48 hours and are highly attractive to pollinators, especially bees.
Most of the fruit (in Israel) ripens within a short two-week period, in the summer, typically in mid-July to mid-August. But, due to arid desert conditions in parts of Israel cactus pears can be harvested ten months a year.
The widespread propagation (intended and unintended) throughout the Mediterranean obscured the geographic origins of this species; many early European botanists regarded this cactus to be native, as reflected in Cactus opuntia. This Mediterranean naturalization may now be conceived as complete, as the Israelis of the mid twentieth century often adopted the sabras as a symbol of their struggle (and humanity) in adverse desert conditions.
Sabra (צבר) is the word used to describe a Jew born in Israel.
Israel is a country of immigrants, since its founding in 1948 Israel's population has grown more than eight-fold. Today it has about 7 million inhabitants with varied ethnic backgrounds, lifestyles, religions, cultures and traditions. Even though the variety of nationalities, a typical Israeli character type has emerged that is often compared to the Sabra(צבר) Opuntia ficus-indica – thorny on the outside with a thick peel that must be removed, to get to the sweet meaty inside.
"Sabra" is not only the name of the fruit of the Prickly Pear but it also can be a chocolate orange liquor manufactured in Israel, has nothing to do with the fruit. It is the name of the upgraded M60 Patton Tank and Sabra is the name of a company that makes very popular Mediterranean dips and spreads.