Life form:

Geophyte

Stems:

30-60 cm high; stem stiff, erect; flowering stems standing above leaves up to 60cm high

Leaves:

Rosette, amplexicaule, dull blue-green, shorter than the stem; blade very lengthened, narrow, channelled beneath; leaves not faded during flowering

Flowers:

Hermaphrodite; pyramidal raceme; 20-50 flowers; long bract of 1–2 cm; 6 star-shaped white petals bearing a pale green central vein, while the buds are oval, with longitudinal green and white stripes; 6 stamens have a white filament holding yellow anthers of 4 mm; pollinated by insects

Fruits / pods:

Ovoid and 3-furrowed capsule

Flowering Period:

March, April

Habitat:

Batha, Phrygana, Shrub-steppes

Distribution:

Mediterranean Woodlands and Shrublands, Semi-steppe shrublands, Shrub-steppes, Deserts and extreme deserts, Montane vegetation of Mt. Hermon

Chorotype:

Med - Irano-Turanian

Summer shedding:

Ephemeral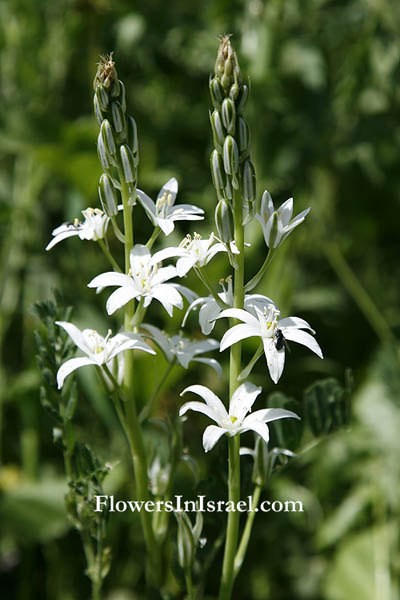 Derivation of the botanical name:
Ornithogalum, ornis ορνισ, ιϑοϛ , a bird, ornith pertaining to birds;galum, milk.
Carl Linnaeus (1707 – 1778) says, that the roots of this plant are the Dove's dung (seed pods), which was sold so dear during the siege of Samaria, (II Kings 6:25); "which interpretation appears highly probable from the obvious identity of the name ornithogalum (Bird's-milk), and which was applied to this plant by many of the ancient writers, as Dioscorides, Pliny, &c.,and from the circumstance that they are, when boiled, eaten at the present day by the poorer inhabitants of Palestine, where grows in abundance; whence its English name Star of Bethlehem."
narbonense,Of or from Narbonne, a city in southern France in the Languedoc-Roussillon région.
The standard author abbreviation L. is used to indicate Carl Linnaeus (1707 – 1778), a Swedish botanist, physician, and zoologist, the father of modern taxonomy.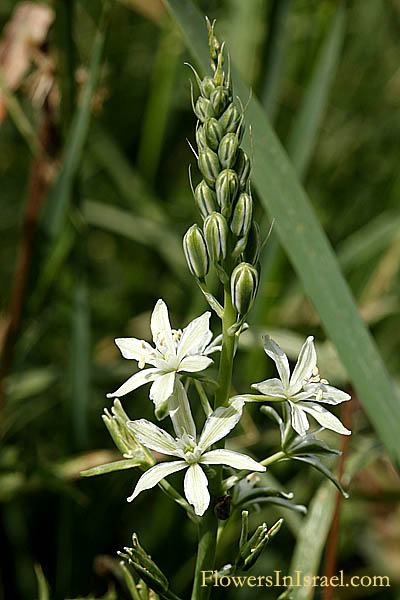 Location: Bene Zion Nature Reserve