Phalaris minor, Littleseed canarygrass,
Hebrew: חפורית קטנה, Arabic: Sha'ir el-far

Scientific name:

Phalaris minor Retz.

Common name:

Little seeded canary grass, small canary grass

Hebrew name:

חפורית קטנה

Arabic name:

Sha'ir el-far

Family:

Gramineae (Poaceae), Grass Family, משפחת הדגניים
Life form:

Annual

Spinescence:

non-

Stems:

to 80cm high

Leaves:

Alternate, to 20cm long, flat, broadly linear, tapering to an apex.

Inflorescence:

A dense oblong to oblong-ovate cylindrical panicle

Flowers:

Green, all spikelets fertile, about 5mm long, glues compressed, withtoothed wings.

Fruits / pods:

A caryopsis with adherent pericarp and a linear hilum.

Flowering Period:

March, April, May, June

Habitat:

Desert, Shrub-steppes

Distribution:

Mediterranean Woodlands and Shrublands,Shrub-steppes, Semi-steppe shrublands, Deserts

Chorotype:

Med - Irano-Turanian

Summer shedding:

Ephemeral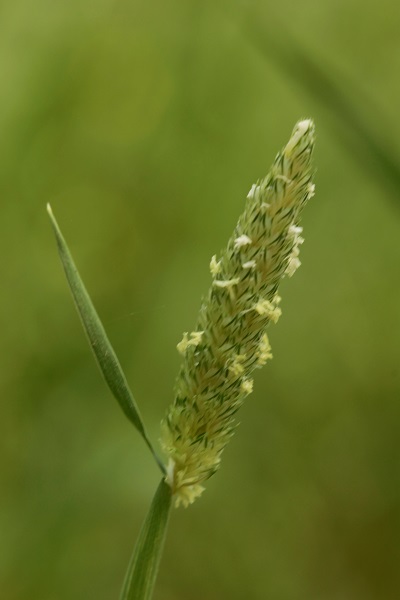 Derivation of the botanical name:
Phalaris, Greek, used by Dioscorides for a kind of grass, ribbon grass, canary grass; phalaros "having a patch of white, crested, "phalos" shining, bright, white, a part of the helmet"; Latin phalaris or phaleris, idis for the plant canary-grass.
minor, smaller.
The standard author abbreviation Retz. is used to indicate Anders Jahan Retzius (1742 – 1821) , a Swedish chemist, botanist and entomologist.