Picris amalecitana, Picris intermedia,
Hagioseris amalecitana, Amalek ox-tongue,
Hebrew: מררית החוף, Arabic: مرير العماليق
Scientific name:

Picris amalecitana (Boiss.) Eig

Synonym name:

Picris intermedia Eig, Hagioseris amalecitana Boiss.

Common name:

Amalek ox-tongue

Hebrew name:

מררית החוף

Arabic name:

مرير العماليق

Family:

Compositae (Asteraceae), מורכבים
Life form:

Annual with rigid hairs

Stems:

Flowering stems 8-40 cm, usually branched from base

Leaves:

Entire, sinuate-dentate

Inflorescence:

Capitula few

Flowers:

Flowering heads 1.5 cm in diameter. Inner involucral bracts glochidiate, in fruit indurate and canaliculate below

Fruits / pods:

Achenes

Flowering Period:

March, April

Habitat:

Sands of the coastal plain, the Negev deserts and prairies

Distribution:

Mediterranean Woodlands and Shrublands, Semi-steppe shrublands, Shrub-steppes

Chorotype:

Mediterranean

Summer shedding:

Ephemeral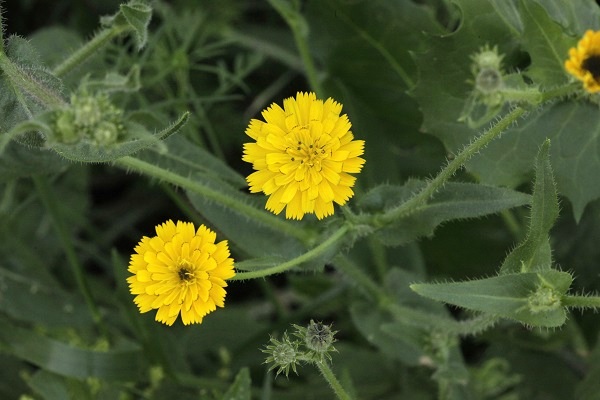 Derivation of the botanical name:
Picris Greek picros, bitter, from the bitter taste of the plant.
amalecitana, Amalek, a tribe dwelling originally in the region south of Judah in Biblical times.
intermedia, intermediate
Hagioseris, Greek ἅγιος hágios, "sacred, devoted to the gods," seris, endive, chicory.
ox-tongue, from the shape of the leaves.
The Hebrew name: מררית, mararit, from מרר, mrar (= to be bitter); properly loan translation of the Latin name Picris (=a bitter herb), from Greek pikris, from pikros (= bitter).
The standard author abbreviation Boiss. is used to indicate Pierre Edmond Boissier (1810 – 1885), a Swiss botanist, explorer and mathematician.
The standard author abbreviation Eig is used to indicate Alexander Eig (1894 – 1938), a botanist, one of the first plant researchers in Israel, head of department for Botanics at the Hebrew University of Jerusalem, and co-founder of Jerusalem Botanical Gardens on Mount Scopus.
Picris amalecitana is endemic to Israel, Sinai beaches and the coast of south Lebanon. Sands is one of its habitats.