Piptatherum thomasii, Piptatherum miliaceum,
Millet grass, נשרן צפוף

Scientific name:

Piptatherum thomasii (Duby) Kunth

Synonym name:

Piptatherum miliaceum (L.) Coss. var. thomasii (Duby) Freitag

Common name:

Millet grass

Hebrew name:

נשרן צפוף

Family:

Graminea (Poaceae), Grass Family, משפחת הדגניים
Life form:

Hemicryptophyte

Stems:

Culms often branched

Leaves:

Alternate, rosette, entire

Inflorescence:

Panicle; spikelets with 1 bisexual lemma, rhachilla (=a branch of inflorescence) articulated above the glumes

Flowers:

Green

Fruits / pods:

Caryopses

Flowering Period:

February, March, April, May, June, July

Habitat:

Batha, Phrygana

Distribution:

Mediterranean Woodlands and Shrublands, Semi-steppe shrublands

Chorotype:

Mediterranean

Summer shedding:

Perennating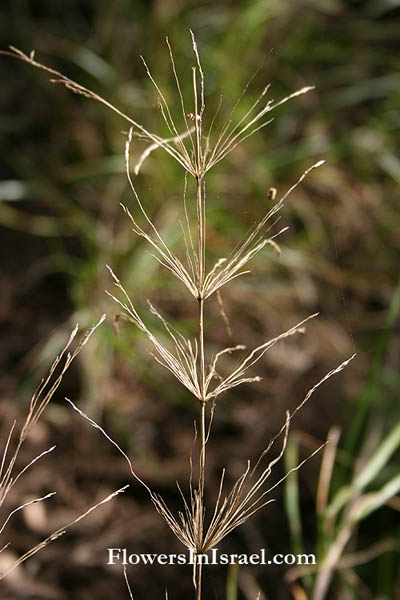 Derivation of the botanical name:
Piptatherum, pipto, "to fall", and ather, "stalk".
thomasii, after Major George Henry Thomas (1816 - 1870), stationed at Fort Yuma about 1850, and later as a general a Civil War hero called the Rock of Chickamauga.
miliaceum, pertaining to millet; millet-like.
The Hebrew name: נשרן, nasran, formed from נשר, nashar (=to fall out).
The standard author abbreviation Duby is used to indicate Jean Étienne Duby (1798 – 1885), a Swiss Evangelical priest in Geneve and botanist (worked on cryptogams).
The standard author abbreviation Kunth is used to indicate Carl Sigismund Kunth (1788 – 1850), a Swedish botanist, physician, and zoologist, the father of modern taxonomy.
The standard author abbreviation L. is used to indicate Carl Linnaeus (1707 – 1778), a Swedish botanist, physician, and zoologist, the father of modern taxonomy.
The standard author abbreviation Coss. is used to indicate Ernest Saint-Charles Cosson (1819 – 1889), a French botanist.
The standard author abbreviation Freitag is used to indicate Helmut Freitag (born Berlin 1932), a German botanist