Polygonum aviculare, Polygonum arenastrum,
Common knotweed, Prostrate knotweed, Doorweed, Knotgrass,
Wiregrass, Yard knotweed,
Hebrew: ארכובית הציפורים, Arabic: بطباط الطيور
Scientific name:

Polygonum aviculare L.

Synonym name:

Polygonum arenastrum Boreau

Common name:

Common knotweed, Prostrate knotweed, doorweed, knotgrass, wiregrass, yard knotweed

Hebrew name:

ארכובית הציפורים

Arabic name:

بطباط الطيور

Family:

Polygonaceae, ארכוביתיים
Life form:

Annual, therophyte

Stems:

Mat-forming, 10-122 cm in diameter; prostate to erect, 5-200 cm long, many-branched

Leaves:

Alternate, entire

Inflorescence:

Axillary fascicle of small flowers, inconspicuous, 1-6 flowered, on upper part of plant; pedicels jointed, 1-4 mm long; bracts with well-developed blades

Flowers:

Bisexual, pink, white

Fruits / pods:

Achenes, 1.7-4.0 mm long

Flowering Period:

March, April, May, June, July, August, September, October

Habitat:

Disturbed habitats

Distribution:

Mediterranean Woodlands and Shrublands, Semi-steppe shrublands, Shrub-steppes, Deserts and extreme deserts, Montane vegetation of Mt. Hermon

Chorotype:

Plurireginalbor-trop

Summer shedding:

Ephemeral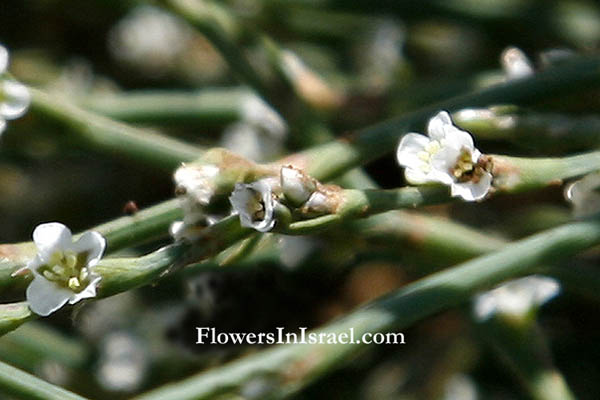 Derivation of the botanical name:
Polygonum, polys, πολυϛ, πολλη, πολυ, much, many, frequent; large; heavy; gonu, a knee-joint; from the many joints in the stem.
aviculare, avisbird; relating to small birds.
arenastrum, resembling the genus Arenaria.
ארכובית הציפורים, arkovit ha'tsiporim (Hebrew), 'bird's polygonum', because of its seeds, much loved by birds.
The standard author abbreviation L. is used to indicate Carl Linnaeus (1707 – 1778), a Swedish botanist, physician, and zoologist, the father of modern taxonomy.
The standard author abbreviation Boreau is used to indicate Alexandre Boreau (1803 – 1875), a French pharmacist and botanist.