Reaumuria hirtella, Suaeda palaestina, Common Reaumuria,
Hebrew name: אשליל שעיר, Arabic Name: ﺔﺤﯿﻠﻣ

Scientific name:

Reaumuria hirtella Jaub. & Spach

Synonym name:

Suaeda palaestina Eig & Zohary

Common name:

Common Reaumuria

Hebrew name:

אשליל שעיר

Arabic name:

Melliha, ﺔﺤﯿﻠﻣ

Family:

Tamaricaceae, אשליים
Life form:

Perennial shrublet

Succulence:

Leaf succulent

Stems:

Branches vertical, distant one of second

Leaves:

Alternate, semicylindrical succulent

Inflorescence:

Solitary, terminal

Flowers:

Hermapphrodite, 5 sepals each with 2-scale-like appendages at the base, 5 pink petals, numerous stamens bundled into 5opposite the petals, ovary spherical to conical with 5 threadlike terminal styles

Fruits / pods:

Capsule; seeds covered with long hairs

Flowering Period:

March, April, May, June, July

Habitat:

Desert

Distribution:

Shefela, Negev, Samarian desert, Judean desert, Dead Sea valley, Aravah

Chorotype:

Irano-Turanian-Saharo-Arabian

Summer shedding:

Perennating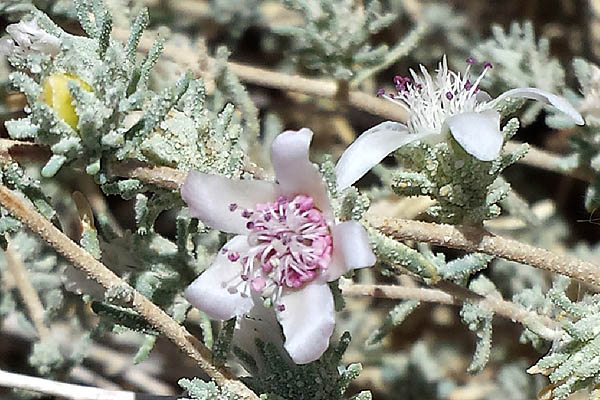 Derivation of the botanical name:
Reaumuria, in honour of René Antoine Ferchault de Réaumur (1683 – 1757), a French scientist who contributed to many different fields.
hirtella, rather hairy.
Suaeda, a newly created genus name, with the name taken from an Arabic name.
palaestina, Palestine, Eretz-Israel, Israel.
The Hebrew name: אשליל, ashlil (New Hebrew); [Coined from אשל, eshel (=tamarisk through reduplication of the letter ל, l. [Related to Aramaic: אתלא , Arabic: 'athl, Old South Arabic: אתל, Akkadian: ashlu ( = tamarisk)]. Aramaic: אשלא is a Hebrew loan word.
The standard author abbreviation Jaub. is used to indicate Hippolyte François Jaubert (1798 – 1874), a French politician and botanist.
The standard author abbreviation Spach is used to indicate Édouard Spach (1801 – 1879), a French botanist.
The standard author abbreviation Eig is used to indicate Alexander Eig (1894 – 1938), a botanist, one of the first plant researchers in Israel, head of department for Botanics at the Hebrew University of Jerusalem, and co-founder of Jerusalem Botanical Gardens on Mount Scopus.
The standard author abbreviation Zohary is used to indicate Michael Zohary (1898 - 1983), a pioneering Israeli botanist.
The Reaumuria hirtella, have been seen covered with minute drops of water, which have been replaced at sunrise by minute crystals of salt produced by the plant, when no dew was deposited elsewhere, thus actually obtaining moisture from the air itself.