Satureja thymbra, Thyme-leaved savory, Pink savory,
Barrel Sweetener, Whorled savory, Roman hyssop,
Hebrew: צתרה ורודה , Arabic: ندغ البساتين

Scientific name:

Satureja thymbra L.

Common name:

Thyme-leaved savory, Pink savory, Barrel Sweetener, Whorled savory, Roman hyssop

Hebrew name:

צתרה ורודה

Arabic name:

ندغ البساتين

Plant Family:

Labiatae / Lamiaceae, שפתניים
Life form:

Chamaephyte, semi-shrub

Stems:

Shrubby stems, branching, 15–50 cm high

Leaves:

Opposite, entire, smooth

Flowers:

In whorls, purple, pink

Fruits / pods:

Schizocarp

Flowering Period:

March, April, May

Habitat:

Batha, Phrygana

Distribution:

Mediterranean Woodlands and Shrublands

Chorotype:

Mediterranean

Summer shedding:

Perennating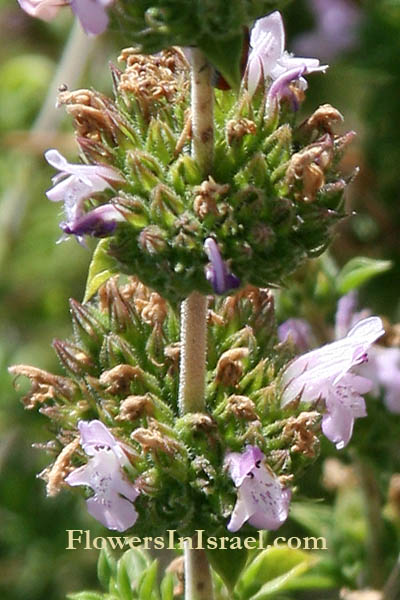 Derivation of the botanical name:
Satureja, satureia ;there is a common origin with Hebrew zaʾatar [זעתר], Arabic az-za'tar [الزعتر], and Turkish sater.
thymbra, an ancient Latin name, thymbra, thymbrae, in Pliny for a savoury, thymelike plant; the herb savory.
The Hebrew name: צתרה, zatra,from Aramaic: צתרא, zatra compare Arabic: za'athar.
The standard author abbreviation L. is used to indicate Carl Linnaeus (1707 – 1778), a Swedish botanist, physician, and zoologist, the father of modern taxonomy.
H.B.Tristram (1822-1906), The Natural History of the Bible: "Hyssop, Heb. Êzôb, Gr. ΰσσωπος.- Few biblical plants have caused more discussion than the Hyssop. Celsius has devoted no less than forty-two pages to the question without arriving at any satisfactory conclusion. In this respect the knowledge of Salomon has certainly been lost. One difficulty arises from the Septuagint having translated êzôb always by ΰσσωπος, while it is possible they merely took their rendering from the similarity of the words in sound.
But even then it is uncertain what the Greek Hyssop was through most botanists believe it to have been a species of Satureia, a labinate plant, allied to the Mint (S.graeca). One species, Satureia thymbra, we found abundant on Mount Carmel.

See the list of Medicinal herbs in Israel, the parts used and their medical uses to treat various diseases.