Scirpus maritimus, Bolboschoenus maritimus, Scirpus tuberosus,
Cosmopolitan bulrush, Prairie Rush, Sea Clubrush, Alkalai bulrush,
Hebrew: אגמון ימי, Arabic: الديس البحري

Scientific name:

Scirpus maritimus L.

Synonym name:

Bolboschoenus maritimus (L.) Palla, Scirpus tuberosus Desf.

Common name:

Cosmopolitan bulrush, Prairie Rush, Sea Clubrush, Alkalai bulrush

Hebrew name:

אגמון ימי

Plant Family:

Cyperaceae, גמאיים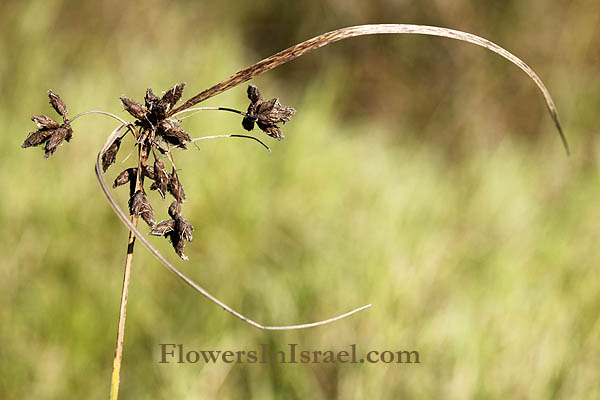 Location: Netanya, the Dora rain pool
Life form:

Helophyte

Leaves:

Alternate, entire, smooth

Flowers:

Brown

Flowering Period:

March, April, May, June, July, August, September, October

Habitat:

Humid habitats

Distribution:

Mediterranean Woodlands and Shrublands, Semi-steppe shrublands, Deserts and extreme deserts, Montane vegetation of Mt. Hermon

Chorotype:

Med - Irano-Turanian

Summer shedding:

Perennating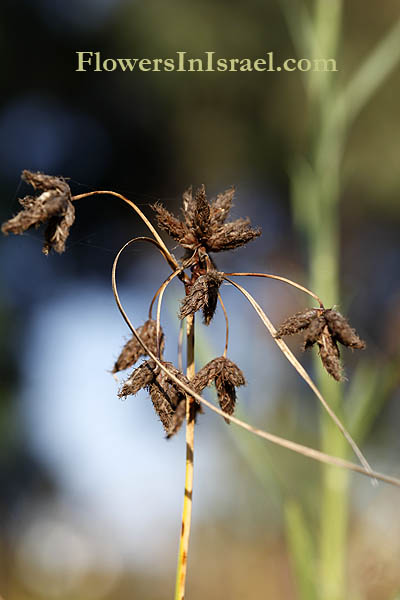 Location: Netanya, the Dora rain pool



Derivation of the botanical name:
Scirpus, the Latin name for "bulrush".
maritimus, maritim, "of the sea"; on the sea-coast
Bolboschoenus, Greek bolbos, a bulb; schoenos, a rush, reed, in reference to the presence of corms.
tuberosus, producing tubers, or swollen into a tuber.
The Hebrew name: אגמון, agmon, from אגם, agam, lake, pool, pond; marshland; reeds (growing on a lake-shore).
The standard author abbreviation L. is used to indicate Carl Linnaeus (1707 – 1778), a Swedish botanist, physician, and zoologist, the father of modern taxonomy.
The standard author abbreviation Palla is used to indicate Eduard Palla (1864 – 1922), an Austrian botanist.
The standard author abbreviation Desf. is used to indicate René Louiche Desfontaines (1750 – 1833), a French botanist.
Scirpus maritimus has a triangular stem; the Scirpus sp. Cordgrass stems are round, spongy and hollow.
Most Scirpus maritimus has three rows of leaves, and sheaths with united edges (vs. overlapping sheaths of grasses). Scirpus maritimus inflorescence is an open umbel, cluster of spikelets or solitary spikelet.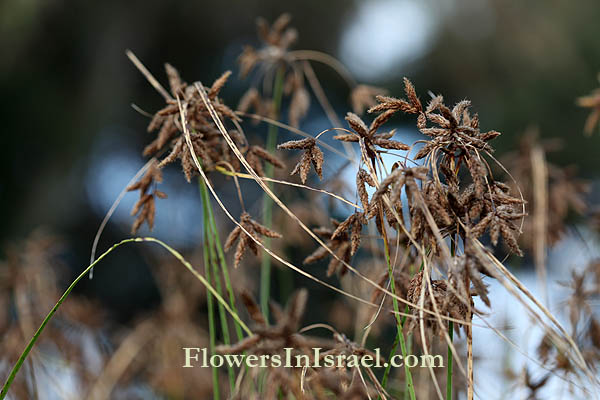 Location: Netanya, the Dora rain pool