Sisymbrium irio, London Rocket, Wild Mustard,
Hebrew: תודרה סייגית, Arabic: شليات حويرة
Scientific name:

Sisymbrium irio L.

Common name:

London Rocket, Wild Mustard

Hebrew name:

תודרה סייגית

Arabic name:

شليات حويرة

Family:

Cruciferae / Brassicaceae, מצליבים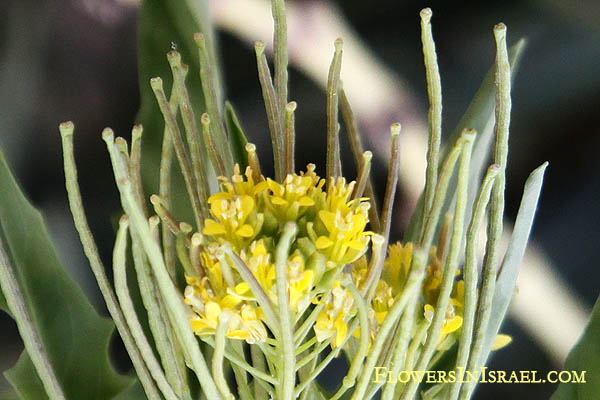 Location: Jaffo, Old City
Life form:

Annual

Leaves:

Alternate, dissected, dentate or serrate

Flowers:

Hermaphrodite, yellow

Fruits / pods:

Long, slender, seed pods

Flowering Period:

January, February, March, April, May

Habitat:

Nutrient-rich soils, ruderal

Distribution:

Mediterranean Woodlands and Shrublands, Semi-steppe shrublands, Shrub-steppes, Deserts and extreme deserts

Chorotype:

Med - Irano-Turanian

Summer shedding:

Ephemeral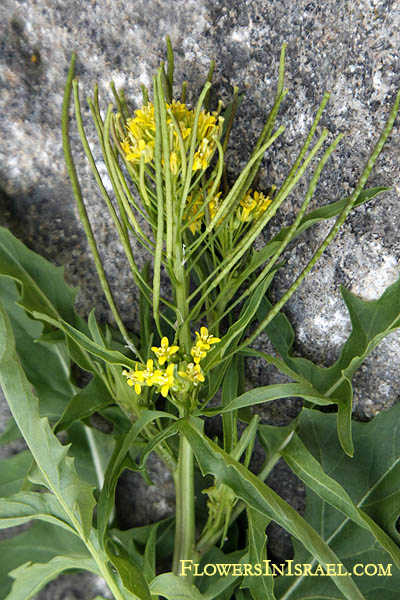 Location: Jaffo, Old City



Derivation of the botanical name:
Sisymbrium, Latinized ancient Greek name used by Dioscorides and Pliny for various species of mustard.
irio, an old reference to a kind of cress.
London Rocket, first noted by 17th century botanists as growing in great abundance following the great fire of London in 1666.
The standard author abbreviation L. is used to indicate Carl Linnaeus (1707 – 1778), a Swedish botanist, physician, and zoologist, the father of modern taxonomy.