Smilax aspera, Mediterranean Smilax,
Common Smilax, Rough Bindweed, Prickly ivy,
Hebrew: קיסוסית קוצנית, Arabic: فشاغ الخشن

Scientific name:

Smilax asperan L.

Common name:

Mediterranean Smilax, Common Smilax, Rough Smilax, Prickly ivy

Hebrew name:

קיסוסית קוצנית

Arabic name:

فشاغ الخشن

Family:

Liliaceae, שושניים
Life form:

Phanerophyte, shrub

Spinescence:

Emergences

Leaves:

Alternate, entire

Flowers:

Cream, white

Flowering Period:

October, November, December, January

Habitat:

Mediterranean maquis and forest

Distribution:

Mediterranean Woodlands and Shrublands, Montane vegetation of Mt. Hermon

Chorotype:

Mediterranean

Summer shedding:

Perennating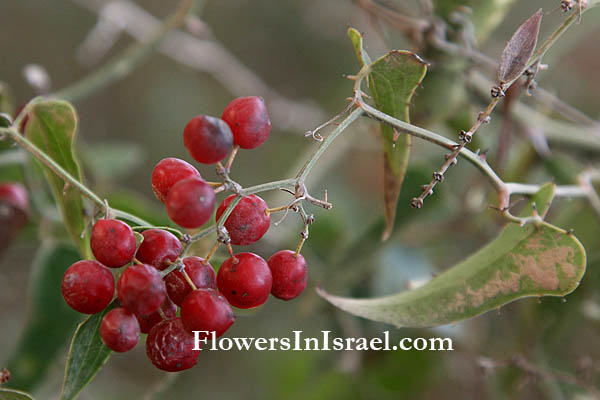 Derivation of the botanical name:
Smilax, Greek for clasping.
aspera, rough.
The Hebrew name: קיסוסית, kissosit, formed from קיסוס, kissos [Greek kissos (= ivy)] with suffix ית, it .
The standard author abbreviation L. is used to indicate Carl Linnaeus (1707 – 1778), a Swedish botanist, physician, and zoologist, the father of modern taxonomy.
See the list of Medicinal herbs in Israel, the parts used and their medical uses to treat various diseases.