Solanum nigrum, Black nightshade, Common nightshade, Hound's berry,
Hebrew: סולנום שחור, Arabic:عنب الذيب الأسود
Scientific name:

Solanum nigrum L.

Common name:

Black nightshade, Common nightshade, Hound's berry

Hebrew name:

סולנום שחור

Arabic name:

عنب الذيب الأسود "Enab El-Deib"

Family:

Solanaceae, סולניים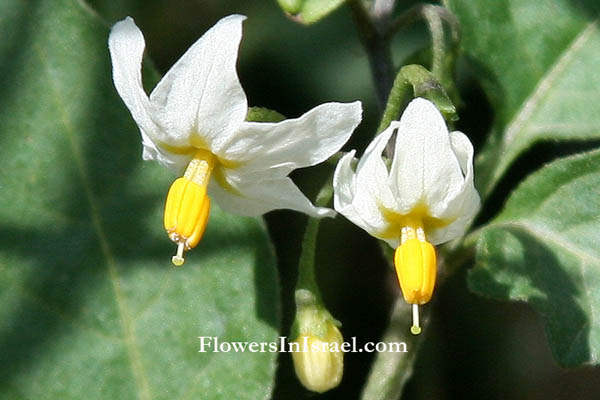 Life form:

Hemicryptophyte

Stems:

Up to 70 cm high; stems decumbent to erect, branched, with costate (having ribs) branches; green to purple

Leaves:

Alternate, entire

Inflorescence:

Lateral lax cymes, 4-10-flowered, on 3-5cm long peduncles

Flowers:

White, with yellow central anthers; pedicels longer than the flowers, recurved in fruit; calyx-lobes ovate, adhering to the base of the fruit; corolla 2-3 times longer than the calyx

Fruits / pods:

Berries usually broadly ovoid, dull purple to blackish or yellowish-green, 6-10 mm broad, remaining on plants or falling from calyces when ripe; seeds 1.7-2.4 mm long, 26 to 60 per berry. berries are poisonous

Flowering Period:

Spring, summer

Habitat:

Disturbed ground

Distribution:

Mediterranean Woodlands and Shrublands, Semi-steppe shrublands, Shrub-steppes, Deserts and extreme deserts, Montane vegetation of Mt. Hermon

Chorotype:

Euro-Siberian - Med - Irano-Turanian

Summer shedding:

Ephemeral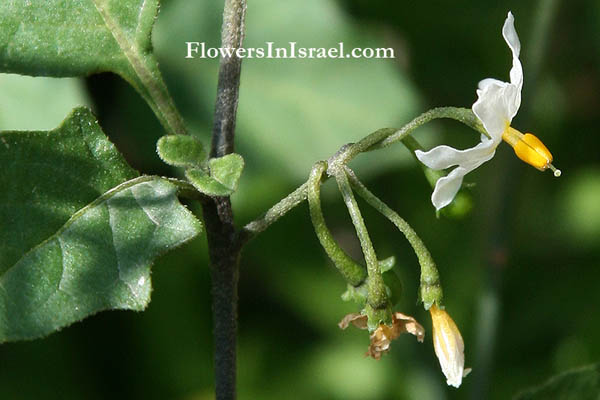 Derivation of the botanical name:
Solanum, Latin for "quieting," in reference to the narcotic properties of some species.
nigrum, black, blackness; referring to the color of the seeds.
The standard author abbreviation L. is used to indicate Carl Linnaeus (1707 – 1778), a Swedish botanist, physician, and zoologist, the father of modern taxonomy.