Sonchus oleraceus, Sow thistle, Smooth Sow Thistle,
Annual Sow Thistle, Hare's Colwort, Hare's Thistle, Milky Tassel,
Swinies, Sea Sow-thistle, Hare's lettuce,
Hebrew: מרור הגינות, Arabic: جعيض
Scientific name:

Sonchus oleraceus L.

Synonym name:

Hieracium oleraceum L., Lactuca oleracea L.

Common name:

Sow-thistle, Hare's lettuce

Hebrew name:

מרור הגינות

Arabic name:

جعيض

Family:

Compositae / Asteraceae, מורכבים
Life form:

Therophyte, annual

Leaves:

Alternate, dissected once, dentate or serrate

Flowers:

Yellow

Flowering Period:

All year round

Habitat:

Disturbed ground, cultivated areas

Distribution:

Mediterranean Woodlands and Shrublands, Semi-steppe shrublands, Shrub-steppes, Deserts and extreme deserts

Chorotype:

Euro-Siberian - Med - Irano-Turanian

Summer shedding:

Ephemeral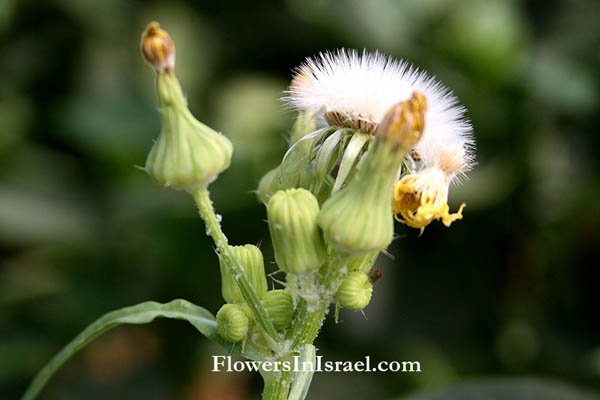 Derivation of the botanical name:
Sonchus,Greek name for sow-thistle plants.
oleraceus, of the vegetable garden; herbs used in cooking.
Hieracium, Greek hierax, "a hawk." Pliny the Elder (23-79) believed that hawks fed on this plant to strengthen their eyesight and thus it became the Greek and Latin name for this and similar plants, the common name of which is hawkweed.
Lactuca, Latin lact, milk, referring to the milky sap.
The standard author abbreviation L. is used to indicate Carl Linnaeus (1707 – 1778), a Swedish botanist, physician, and zoologist, the father of modern taxonomy.