Life form:

Tree, 1-3 m high

Stems:

Reddish brown bark; glabrous

Leaves:

Alternate, scale

Inflorescence:

vernal, racemes 3-9 cm. long, 5-8 mm broad

Flowers:

Hermaphrodite; mostly tetramerous, rarely pentamerous; white

Fruits / pods:

Capsule pyramical shaped, 6 mm long

Flowering Period:

January, February, March, April, December

Habitat:

Saline Sandy Soils, Swamps, Edges of Salt Marshes

Distribution:

Mediterranean Woodlands and Shrublands, Semi-steppe shrublands, Shrub-steppes, Deserts and extreme deserts Salt resistance : grows in salty and non-salty habitats

Chorotype:

Med - Saharo-Arabian

Summer shedding:

Perenating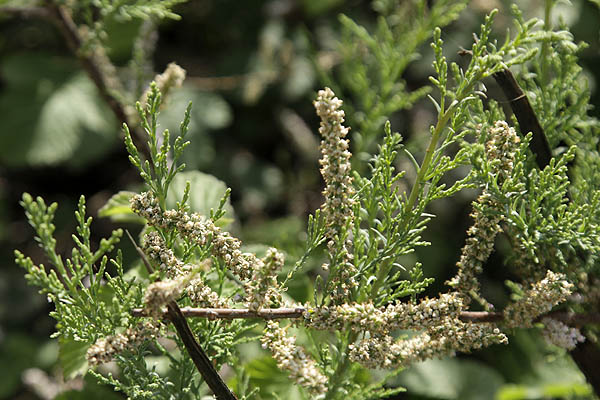 Location: Achu Binyamina



Derivation of the botanical name:
Tamarix, the Latin name for this plant derived from the Tamaris River in Spain.
tetragyna, with 4 styles or carpels.
The standard author abbreviation Ehrenb. is used to indicate Christian Gottfried Ehrenberg (1795 – 1876), a German naturalist, zoologist, comparative anatomist, geologist, and microscopist.
According to Harold Moldenke (1909-1996), an American botanist/taxonomist (Plants of the Bible p.227): Tamarix tetragyna: also called Tamarix deserti Boiss. and T. noeana Boiss.