Teucrium divaricatum, Hedge Germander, Aegean Sage Germander,
Hebrew: געדה מפושקת, Arabic: الجعدة المتباينة

Scientific name:

Teucrium divaricatum Sieber ex Heldr.

Common name:

Hedge Germander or Aegean Sage Germander

Hebrew name:

געדה מפושקת

Arabic name:

الجعدة المتباينة

Family:

Labiatae (Lamiaceae), Mint Family, משפחה שפתניים
Life form:

Small stout shrub 10-30 (-50)cm

Spinescence:

no

Succulence:

no

Stems:

Brown to dak red, very branched, with small grey white hairs

Leaves:

Coriaceous (resembling leather), ovate, rather shallowly crenate; petiole shorter than the width of the lamina

Inflorescence:

Usually lax.

Flowers:

Calyx c. 8mm, ciliolate; corolla pink or purple, upper lip of corolla absent, corolla-tube glabrous inside; petiole shorter than the width of the lamina

Fruits / pods:

Nutlets

Flowering Period:

April, May, June, July

Habitat:

Batha, Phrygana

Distribution:

Mediterranean Woodlands and Shrublands, Semi-steppe shrublands

Chorotype:

Mediterranean

Summer shedding:

Perennating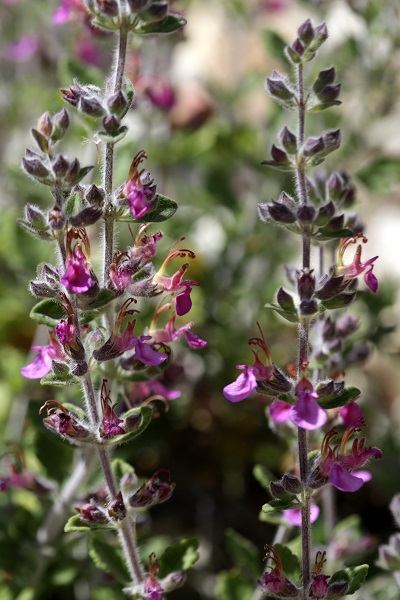 Derivation of the botanical name:
Teucrium, Greek teukrion, probably named for Teucer (Τεῦκρος, Teukros), the son of King Telamon of Salamis and his second wife Hesione, daughter of King Laomedon of Troy. He fought alongside his half-brother, Ajax, in the Trojan War and is the legendary founder of the city Salamis on Cyprus.
divaricatum, divaricate, spreading asunder at a wide angle.
The Hebrew name: געדה, ga'ada, New Hebrew; from Arabic: ja'ada.
The standard author abbreviation Sieber is used to indicate Franz Wilhelm Sieber (1789 – 1844), a Bohemian naturalist (from Prague, now Czech Republic).
The standard author abbreviation Heldr. is used to indicate Theodor Heinrich Hermann von Heldreich (1822 – 1902), a German botanist born in Dresden.