Thesium humile, Dwarf thesium, Field Bastard Toadflax, Lesser Bastard Toadflax,
Hebrew: חלוקה ננסית, Arabic: حب الكريش
Scientific name:

Thesium humile Vahl

Common name:

Dwarf thesium, Field Bastard Toadflax, Lesser Bastard Toadflax

Hebrew name:

חלוקה ננסית

Arabic name:

حب الكريش

Plant Family:

Santalaceae, Sandalwood family, סנטליים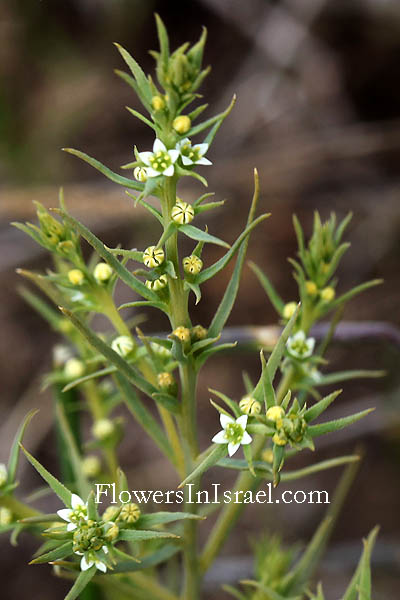 Location: Bene Zion Nature Reserve
Life form:

Parasite

Leaves:

Alternate, entire, smooth

Flowers:

Green

Flowering Period:

February, March, April, May

Habitat:

Batha, Phrygana

Distribution:

Mediterranean Woodlands and Shrublands, Semi-steppe shrublands, Shrub-steppes

Chorotype:

Mediterranean

Summer shedding:

Ephemeral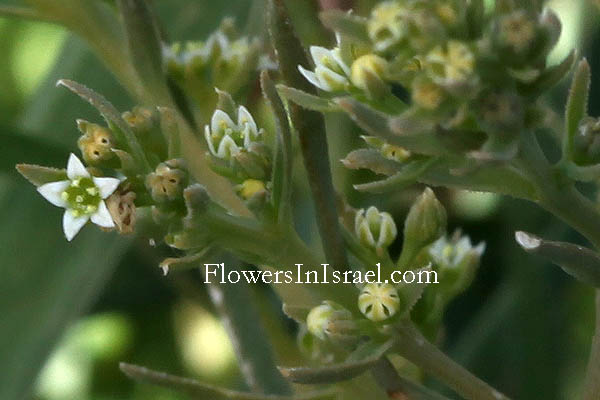 Location: Bene Zion Nature Reserve



Derivation of the botanical name:
Thesium, Latin thesion, an ancient name for species of Linaria, toad flax, used by Plinius. To some authors te genus was named after Theseus, the mythical king and founder-hero of Athens.
humile, low, low-growing, humble.
The Hebrew name: חלוקה, haluqa, Part | Separation of parts, contentious, healthy; bastard toad flax, thesium.
The standard author abbreviation Vahl is used to indicate Martin Henrichsen Vahl (1749 – 1804), a Danish-Norwegian botanist and zoologist.