Life form:

Annual

Spinescence:

Fruits

Stems:

15-20 cm

Leaves:

Alternate, rosette, dissected, bipinnate or more

Inflorescence:

Umbels long-peduncled, with 5 — 9, unequal rays

Flowers:

Polygamous flowers, white petals

Fruits / pods:

Spinescent fruits, oblong in outline, 5 mm long, 2 mm broad; prickles thrice as long as linear mericarp

Flowering Period:

February, March, April, May

Habitat:

Batha, Phrygana

Distribution:

Mediterranean Woodlands and Shrublands, Semi-steppe shrublands, Shrub-steppes, Deserts and extreme deserts, Montane vegetation of Mt. Hermon

Chorotype:

Med - Irano-Turanian

Summer shedding:

Ephemeral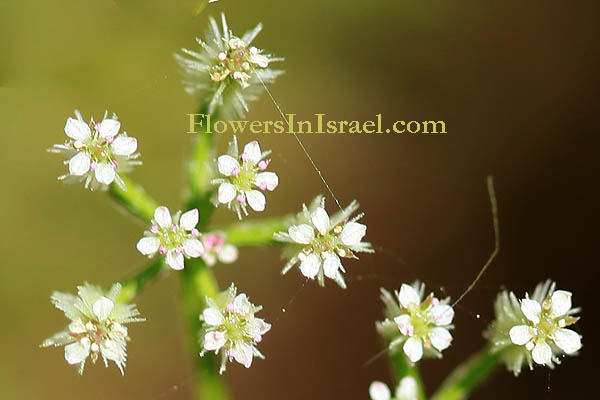 Derivation of the botanical name:
Torilis, Umberto Quattrocchi says "A meaningless name or possibly from toreo "to bore through, to pierce," referring to the prickled fruit.
tenella, Latin, tender, quite delicate, dainty.
Caucalis, ancient classical name.
The standard author abbreviation Delile is used to indicate Alire Raffeneau Delile (1778 – 1850), a French botanist.
The standard author abbreviation Rchb. is used to indicate Heinrich Gottlieb Ludwig Reichenbach (1793 – 1879), a German botanist and ornithologist.