Trigonella kotschyi, Trigonella hierosolymitana,
Jerusalem Fenugreek,
Hebrew: גרגרנית ירושלים, Arabic: حلبة برية
Scientific name:

Trigonella kotschyi Boiss.

Synonym name:

Trigonella hierosolymitana Boiss.

Common name:

Jerusalem Fenugreek

Hebrew name:

גרגרנית ירושלים

Arabic name:

حلبة برية

Family:

Papilionaceae, פרפרניים
Life form:

Annual

Stems:

12-20cm

Leaves:

Alternate, compound, trifoliate, dentate or serrate

Flowers:

Inflorescence 10-14 flowers; Yellow

Fruits / pods:

Allantoid-Oblong; yellow with black point; aculeate-Verrucate

Flowering Period:

March, April

Habitat:

Batha, Phrygana

Distribution:

Mediterranean Woodlands and Shrublands, Semi-steppe shrublands

Chorotype, טיפוס התפוצה:

Mediterranean

Summer shedding:

Ephemeral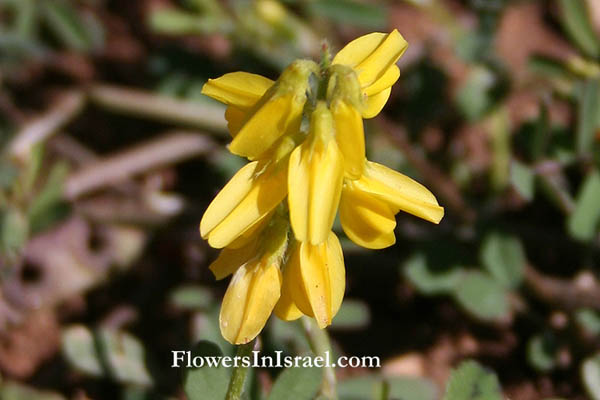 Derivation of the botanical name:
Trigonella, a diminutive of the Latin trigonum, "triangle or three-cornered," referring to the corolla of one of the species
kotschyi, named for Carl George Theodor Kotschy (1813 - 1866), an Austrian botanist and explorer.
The standard author abbreviation Boiss. is used to indicate Pierre Edmond Boissier (1810 – 1885),a Swiss botanist, explorer and mathematician.